DeFi Development Firms in Ukraine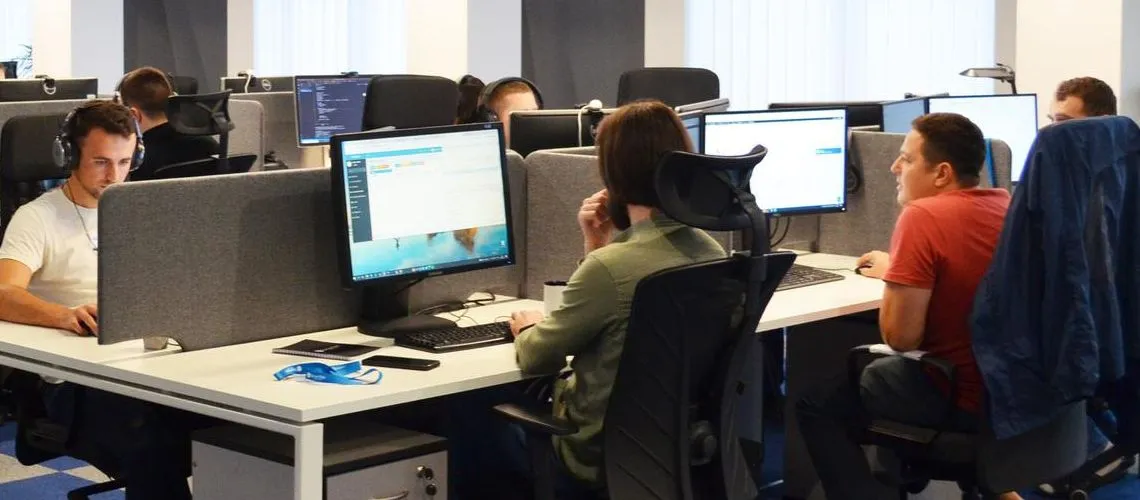 Explore our curated list of top DeFi Development Companies in Ukraine, dedicated to providing innovative solutions in decentralized finance. These companies specialize in areas such as smart contract development, dApp creation, tokenomics and blockchain integration. Leverage their expertise to stay ahead of the curve and revolutionize your business with cutting-edge technology tailored for various industries within the rapidly evolving world of DeFi. Discover the best-fit partner that matches your exact requirements today!
(i) Related tech terms: Smart Contracts, Decentralized Exchanges, Stablecoins, Decentralized Finance, Yield Farming, Liquidity Mining.
Featured Websites
🥇 Looking for talented DeFi freelancers? Look no further than Fiverr! Our freelance services marketplace makes it easy to find and hire top DeFi talent from around the world. Whether you need help with smart contracts, blockchain development or anything in between, our community of expert freelancers is ready to tackle any project – big or small. Join today and start building your dream projects with Fiverr's expert DeFi freelancers!
How to choose the right firm?
When choosing the right DeFi development company, you should ensure that they have a proven track record of successful projects, a team of experienced developers with expertise in the DeFi space, and the ability to deliver quality solutions on time.
Additionally, you should check their customer feedback, technical support and security measures for added assurance.
Typical Projects
Five questions you should ask DeFi developer(s) before the hire
What specific experience do you have in developing DeFi projects?
What is your experience with smart contract development and deployment?
What strategies do you use to optimize performance for DeFi projects?
How would you design a system to ensure the security of a DeFi project?
What challenges have you encountered while developing DeFi products and how did you solve them?
👋 A lot of companies to analyse? Let us help you to select the trustful service provider!
Technologies that may replace DeFi
Thinking of other choices (alternatives) may be a decent thought:
Blockchain-as-a-Service (BaaS): A cloud-based service that allows users to build, host, and use their own blockchain applications without the need for in-house blockchain infrastructure.
Non-Fungible Tokens (NFTs): Digital tokens that represent unique digital assets, such as artwork, collectibles, and in-game items.
Decentralized Autonomous Organizations (DAOs): Autonomous organizations that are governed by a set of rules encoded into a blockchain, allowing them to make decisions without human intervention.
Hire Ukrainian DeFi Engineers
The DeFi development companies in Ukraine are well-positioned to provide their clients with the highest quality services at competitive prices, while also offering a wide range of services. From smart contract development to decentralized exchange platforms and wallet integration, Ukrainian DeFi development companies offer comprehensive solutions to meet the needs of their customers.
Top locations: Kyiv, Lviv, Kharkiv, Dnipro, Odesa, Zaporizhzhia, Vinnytsia, Khmelnytskyi, Ivano-Frankivsk.
The typical rates for DeFi development in Ukraine vary widely depending on the project's complexity and the expertise of the developers. Generally speaking, the rates for DeFi development in Ukraine range from $20-50 per hour for basic development tasks to $50-100 per hour for more complex tasks. Companies may also charge a one-time fee for the entire project.
Future Trends
The future of decentralized finance (DeFi) is promising, with the sector experiencing exponential growth and adoption.
Newer DeFi platforms are emerging to cater to different financial needs such as insurance, lending & borrowing all while being powered by blockchain technology. These innovative solutions empower individuals globally and potentially disrupt traditional banking systems altogether in favor of a programmable global economy where trustless protocols govern accessibilities bringing transparency into play. Despite infancy issues around security concerns & scalability challenges, DeFi has started carving its place which looks set for considerable investment opportunities ready for exploration within this decade.