Custom Laravel Development Services with Echo
Hire Laravel Developers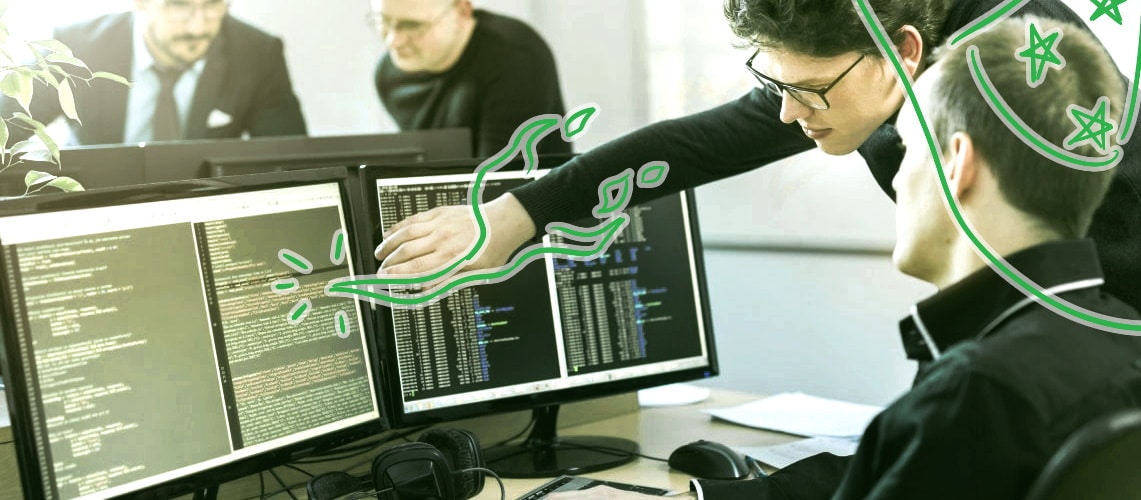 Many startups and established companies in the world use Laravel for their web applications.
It is a great PHP framework and whatever ideas or tasks you might have skilled Lara developers at Echo with years of experience can deliver your projects with great passion and meeting high standards.
The right Laravel development company for your project
Laravel ecosystem is among the top-rated web development platforms since 2015, as the Sitepoint survey says us.
It is a reason why PHP development agencies and individual contractors that use this awesome framework are growing in number constantly. With this, the demand for Laravel experts is also increasing.
But how to get a real pro as the market is overflowing both with demands and offers?
Some lucky ones can find a decent Laravel coder right next door to their office somewhere in New York or Chicago. Yet, for someone, it is quite real to hire developers or outsourcing company's team for remote work from distant locations like Bangalore or a bit closer – in Kyiv or São Paulo. The location of the company you intend to hire is only the tip of the iceberg as professional skills and types of services the company provides play a great role too.
"Adding manpower to a late software project makes it later." — Frederick Brooks.
To make your choice the best bet, you should thoroughly consider what type of services you expect to get. Whether you are interested in boutique agencies that offer turnkey services or you just need a single freelancer from one of the platforms listed below who will fix some problems with your Laravel project?
Upwork. 27 Best Freelance PHP Laravel Programmers For Hire.
Arc.dev Hire the Best Laravel Developer – December 2023.
Guru. Skilled Laravel Consultants for Your Next Project.
Uplers. Talent Connect can help you find top-notch PHP coders who are experts in their field.
Toptal. 11 Best Freelance Laravel Developers [Hire in 48 Hours].
Freelancer.com Hire Laravel Engineers On The World's Largest Freelance Site.
Fiverr. Top 16 Freelance Lara development experts for Hire.
Besides these options, there are also staffing and classic IT outsourcing companies that can meet all your expectations.
So how to choose among them? Just start with the real problem you need to solve with the help of the Laravel dev team. It is not a productive solution to hire a full-time programmer for a long-term contract when you need just to solve a few issues with your Laravel website. As well as hiring a freelancer is not a deal for the ongoing development of Laravel-based web applications. For medium to large projects, hiring an outsourcing development team might be the best solution. When you need regular maintenance of your product, it is better to hire a regular in-house or remote employee to work for you.
In case you are ready to get Laravel development services from a remote company, just take a look at programmers from Ukraine and Latin America. To sign a contract with a reliable partner, you can choose one of the following paths:
Ask for your friends' recommendations.
Place an ad on the B2B matchmaking services like Aciety, YouTeam, Supersourcing, etc.
Search Google for an outsourcing company.
Whatever the way you choose to get in contact with your future partners or employees, references from them is a must.
We are always happy to share detailed references with new potential customers. That makes Echo a reputable IT staffing and team augmentation company worth your attention.
5 reasons to hire Laravel developers with Echo
Vast Network. Thanks to our broad access to the tech talent pool, we immediately start looking for the right person to provide the first suitable candidates within two weeks.

First-Class Recruitment. We use a special sort of magic to find suitable candidates by the wave of the hand. Echo recruiters will find and hire the best software engineers to meet your requirements in no time. This usually takes 2 to 4 weeks.

Established Company. Our activity began in 2013, and since then, our team has remained flexible to attend to the needs of each client. At the same time, we are mature enough to be considered a reliable service provider.

Diverse Experience. Our specialists have significant experience working with young startups, large enterprises, forward-thinking entrepreneurs, and various social projects. Every part of our extensive knowledge is used to create a unique project for you.

Direct Communication. By managing remote developers, you have complete control over the project's quality. Get the fastest possible business growth with the right team control.
Successful digital products built with Laravel
PHP is everywhere. New products are being made with this awesome technology and some of the biggest and most successful companies in the world are incorporating Laravel framework into their tech stack — Github, iHerb, InvoiceNinja, Xing, Kaspersky, and Vodafone.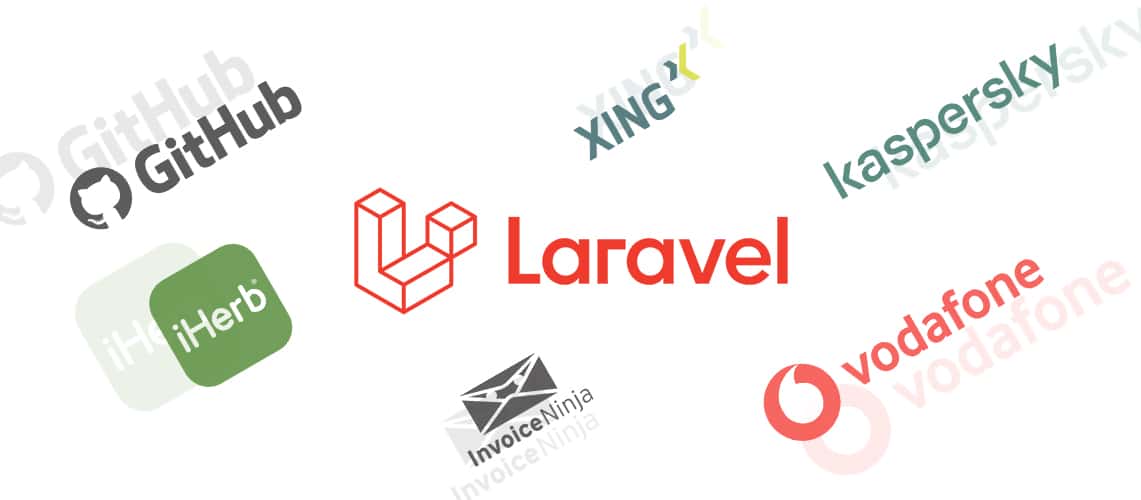 Sources of logotypes: Wikipedia, TechCrunch, Pinterest, Twitter, Depositphotos, Dribble.
Let's explore what these companies do. Most of them need no introduction:
GitHub is a code hosting platform that allows for managing, maintaining, and collaborating on open-source projects.
iHerb is one of the largest US-based online retailers of nutritional supplements, health foods and personal care products.
With Invoice Ninja you'll know exactly when your client opens your invoice and also when they make a payment.
XING is a European social networking website for business professionals.
Kaspersky offers premium protection against all cyber threats for your home and business.
Vodafone is one of the world's largest telecoms operators.
Not only the big guys are using Laravel framework in their production. Many of our customers adore it and hire remote PHP web developers with our help.
Top 10 open-source projects on Github
Monica. Personal CRM. Remember everything about your friends, family and business relationships.
Koel is a simple web-based personal audio streaming service written in Vue on the client-side and Laravel on the server-side.
Flarum is a delightfully simple discussion platform for your website.
October is a Content Management System (CMS) and web platform whose sole purpose is to make your development workflow simple again.
BookStack. A platform for storing and organizing information and documentation.
Aimeos. Laravel eCommerce package for professional, ultra-fast online shops, complex B2B applications and #gigacommerce.
Crater is an open-source web & mobile app that helps you track expenses, payments and create professional invoices.
Polr is an intrepid, self-hostable open-source link shortening web application with a robust API.
Bagisto. An easy-to-use, free and open-source Laravel eCommerce platform to build your online shop in no time.
Wave. The Software as a Service Starter Kit, designed to help you build the SAAS of your dreams.
Advice for Tech Entrepreneurs | Taylor Otwell
This video was published by Honeypot (120K subscribers).
"Taylor Otwell, the founder of Laravel, gives advice learned from the years he spent pursuing his passion. Here he speaks about the importance of focusing on projects that solve your own problems, following your instincts and how to handle criticism."
Current demand for Laravel programmers in the developed countries
According to Github stars research, Laravel is in 4th place among web development frameworks. As Linkedin claims, today the number of job offers to Laravel programmers in the US reaches 9,000+ (as of December 2023).
All these offers couldn't be fulfilled by locals only. That's why hiring remote professionals from other countries around the globe can be a real salvation for businesses. Hiring programmers from Ukraine or Brazil is both easy and profitable as these developers usually claim lower salaries than local US engineers.
The average PHP developer salary in the world
Considering various surveys, we've collected the average salaries of Laravel engineers around the world.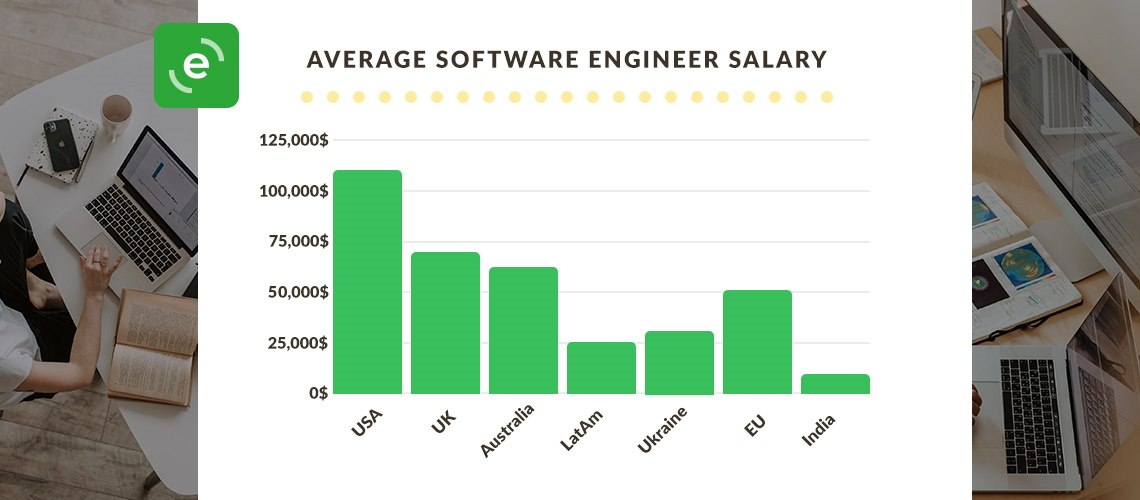 Sources: Indeed, Glassdoor, Seek, DOU, Computrabajo, Naukri, StackOverflow
Comparing annual salaries in various countries, the United States is predictably on the top with its average salaries over $100,000 per year before taxes. California is still number one, but we won't be surprised if Texas can become the next Silicon Valley in the states.
The UK and Australia are keeping 2nd and 3rd places as their salaries offered to Laravel developers are around $70,000 on average. Northern and Western European companies offer approximately $50,000 (42K euros) to their local middle-level software engineers. Eastern Europe and Ukraine, in particular, share very similar median rates to Latin America which are $25-35K per year. Indian specialists expect around $13,000 (1 million rupees) per year.
While India seems to be the most cost-effective option, the cheapest solutions are not always the best. The truth is that you should be ready to pay for quality, regardless of the country your PHP developer comes from.
How much does it cost to hire full-time PHP (Laravel) developers in Ukraine?
The most obvious answer is to get the real numbers from the local IT platforms or job boards like DOU. It can be $2,000, $3,500 or $5,000, which indicates the monthly salary of the web developer in USD:
Full-stack developer (Laravel + Vue.js) at Fatoom | $3000-5000.
PHP Backend Web Developer at Riga SIA | $2600–4900.
Junior-to-Middle PHP Laravel developer at grc.ua | $1000–2500.
Middle/Senior Laravel Developer at Spintech Software | $3500–5000.
Back-end Developer (Laravel) at VYMEX | $2000–3700.
But, there's always a but, as you know.
The biggest mistake CTOs, product managers and startup founders make when hiring remotely and comparing developers is they ignore the embedded costs. In fact, there are numerous and substantial overhead costs (up to 50%) on top of the salaries mentioned above. For example:
Recruiting and HR management.
Paid vacations, public holidays and sick leaves.
Payroll, taxes and legal support.
Workplace setup, hardware and software.
Professional education reimbursement.
And if you choose a hard way to hire programmers directly on your own, you need to take care of these tasks.
As an alternative, you can work with a tech partner such as Echo and focus on your core business goals instead. Going this route will save you a considerable amount of time and energy.
Other Ukraine Laravel Development Companies that might be worth you attention
Alternatively, you can explore Echo network of trusted software development firms like Axisbits, Yelk, Asabix, Binary Studio, ProCoders, GreatDev, Lazy Ants, DevBrother, OGD Solutions, SOLAR Digital. Please, find more information about them in our directory.
OK. Let's get started. What are the next steps?
With Echo, hiring a back-end Laravel programmer or even the entire PHP development team is a simple process:
Gathering Requirements. We start by hearing out your requirements, including project details, job descriptions, team size, workflow and cultural key points. No one-size-fits-all questionnaires.
Selection and Validation. Our HR and tech experts thoroughly interview candidates. You approve each developer and give us the green light to hire them. Once all parties come to an agreement, the work starts.
Launch and Ongoing Support. Our involvement in the process doesn't end when we deliver a needed talent to you. We act as a mediator between the new hire and you to ensure a healthy and long-lasting relationship.
Unlike many of our competitors, we don't give you any false expectations of bringing in a bunch of senior developers the very next day. Finding, validating and hiring the right candidate always takes some time. We utilize our experience, expertise and network to make it happen as soon as feasibly possible.
Drop us a line to get the conversation started today!
Frequently Asked Questions (FAQ)
Do you sign an NDA?
Yes, we do. Our developers also are covered under non-disclosure agreements and confidentiality clauses.
Is it possible to hire PHP Laravel consultants with your help in other locations, not only in Ukraine?
Sure. We are headhunting tech experts from other parts of Eastern Europe (Poland, Moldova, Romania), Baltic (Lithuania, Latvia, Estonia), Balkans (Bulgaria, Macedonia, Albania, Serbia, Montenegro, Croatia, Bosnia), Turkey, Caucasus (Azerbaijan, Armenia, Georgia). Almost everywhere in the CEE region except Russia and Belarus.
I'm not a technical guy. Can a non-technical person manage remote software engineers?
Most of our clients are tech-savvy persons at the positions like CTO, COO, VP Engineering, Head of Development, Team Lead, Technical Product Manager who manage our developers directly. However, if needed we can provide an experienced part-time or full-time project manager on our end to handle collaboration smoothly.