Custom .NET Development Services with Echo
Hire .NET Developers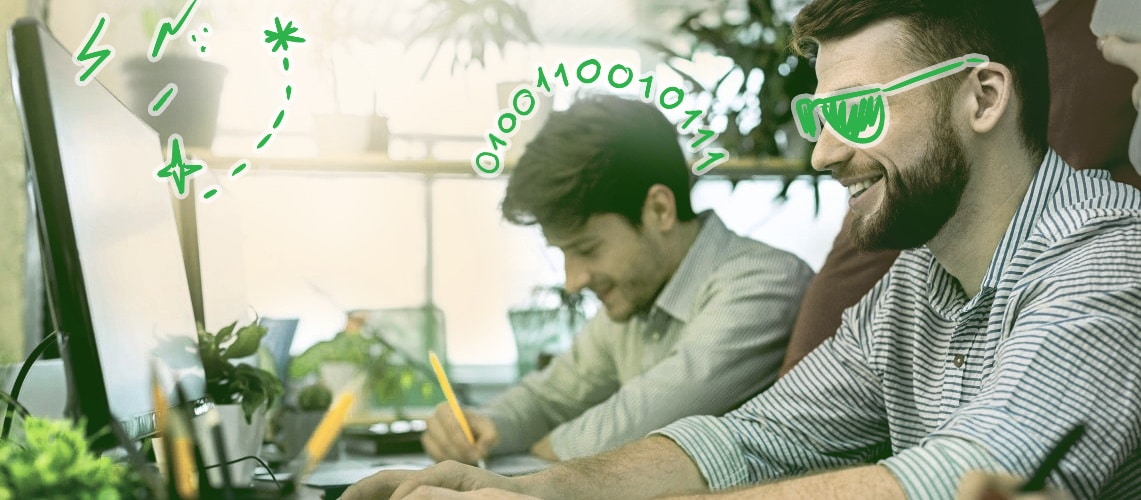 Most organizations in the world use Microsoft technologies in one way or another.
According to PYPL (PopularitY of Programming Language), C# is the world's 4th most popular programming language in the IT industry. It is a solid choice and whatever ideas or tasks you might have certified dot net developers at Echo with years of experience can deliver your projects with great passion and meeting high standards.
The right .NET development company for your project
Are you developing innovative NET-based products?
Then you should consider that the required dotnet engineers can be located anywhere, either on the next street in your city or in another part of the world.
"Any fool can write code that a computer can understand. Good programmers write code that humans can understand." — Martin Fowler
The current market for IT talent is definitely on the side of the specialist, not the company. That is why you should clearly understand how, where, by what criteria you should select an MS engineer for your project. Depending on the allowable budget and the requirements for the chosen specialist, you can use the services of a boutique agency, a prominent recruiting company, or go to a freelance platform.
But what exactly should you give priority to in your case?
To understand if you should use B2B services to hire a .NET developer, you need to estimate your project's financial part correctly. Investigating how many developers, their level of expertise, and project lifetime will help you determine the return on investment in hiring them. Depending on the search option, the average cost of hiring a developer can be 32-51% of the annual salary. Does your project allow you to invest such funds? If not, you should consider searching through talent platforms like:
Turing. Hire Remote ASP.NET Developers | 1 Million+ Vetted.
Upwork. 27 Best Freelance .NET Coders For Hire In October 2023.
Programmers.io Hire us as your .NET application development team.
Upstack. Hire Vetted .Net Developers (2 Minute Signup).
Fiverr. Hire dot net experts to build a website, online store, software, maintain existing code.
Guru. Find and Hire Freelance ASP.NET Developers Online.
Toptal. Hire the Top 3% of Freelance .NET Developers.
Do you really need expert help from a recruiting or outstaffing company? Make sure you have a trustworthy partner looking for talent for your project. 80% of the future IT product success depends on the qualification of the hired developer. The specialized hiring for the company's narrow needs is not only about finding and providing a specialist.
A reliable agency also takes care of the adaptation, growth and development of an engineer within your project. This approach directly affects how long a .NET specialist will work in your company. For that reason, it is vital to look for a talent recruiting partner with a clean track record. Recommendations from colleagues in the IT market, real cases from your industry, understanding of the Microsoft developers talent pool are the most significant characteristics for your future hiring partner.
Echo's experience in the market since 2013 proves that the customers' positive feedback helps to gain the trust of new partners. We do not just post success stories of hiring developers on our website, but we are ready to share our clients' contacts for you to receive honest feedback. This approach ensures your confidence that Echo is the right choice as an IT staffing and team augmentation company.
Typical Projects that We can Deliver
5 reasons to hire Microsoft developers with Echo
Diverse Experience. Our specialists have significant experience working with young startups, large enterprises, forward-thinking entrepreneurs, and various social projects. Every part of our extensive knowledge is used to create a unique project for you.
Vast Network. Thanks to our broad access to the tech talent pool, we immediately start looking for the right person to provide the first suitable candidates within two weeks.
Infrastructure Setup. The main goal of Echo is to build a comfortable work environment so people want to stay for the long term. Just remember, when you invest in your team, it invests back in you.
Talent Retention. You should try to establish a more extended collaboration with remote engineers. With this in mind, our HR and account managers know how important it is to retain each and every talent you hire with us.
Probation Period. We have a trial period that lasts three months after a new hire. This means you can end your relationship with the engineer and request a replacement (if needed) with only a single day's notice.
Successful digital products built with .NET
.NET and C# are everywhere. New products are being made with this awesome MS technology and some of the biggest and most successful companies in the world are incorporating .NET into their tech stack — Blizzard, Agoda, Jobot, Zillow, Tesla, and Twitch.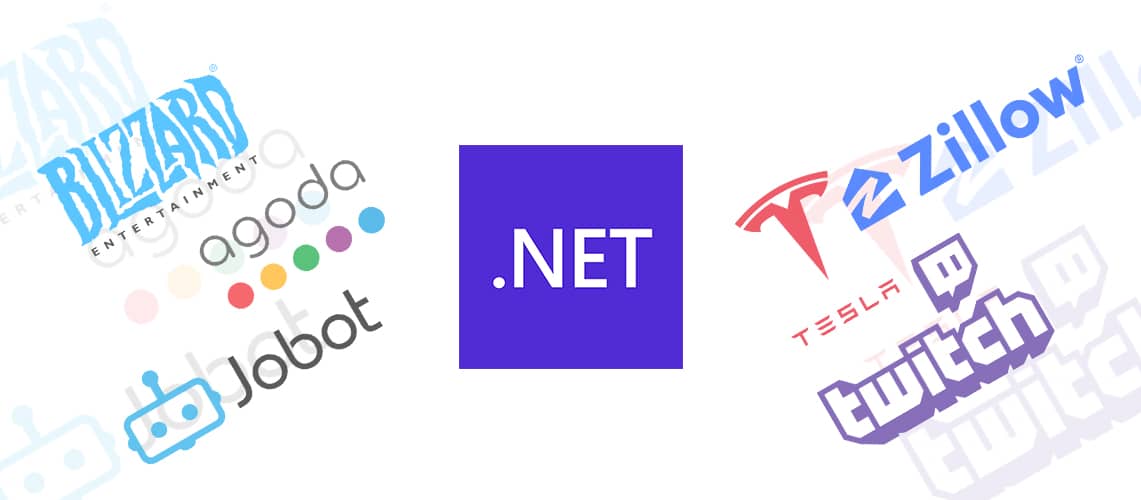 Sources of logotypes: Wikipedia, TechCrunch, Pinterest, Twitter, Depositphotos, Dribble.
Let's explore what these companies do. Most of them need no introduction:
Blizzard is a premier developer and publisher of entertainment software.
Agoda is one of the world's largest and fastest-growing online travel booking platforms.
Jobot platform blends proprietary AI technology and experienced recruiting pros to create the first of its kind job matching engine.
Zillow, the top real estate website in the US, is building an on-demand real estate experience.
Tesla is accelerating the world's transition to sustainable energy with electric cars, solar and integrated renewable energy solutions.
Twitch is the world's leading video platform and community for gamers.
Not only the big guys are using Microsoft .NET framework in their production. Many of our customers adore it and hire remote .NET software engineers with our help.
Top 10 open-source projects on Github
OpenRA. Open-source real-time strategy game engine for early Westwood games such as Command & Conquer: Red Alert written in C# using SDL and OpenGL.
Mono is a software platform designed to allow developers to easily create cross-platform applications. It is an open-source implementation of Microsoft's .NET Framework based on the ECMA standards for C# and the Common Language Runtime.
BotSharp is an open-source machine learning framework for AI Bot platform builder. This project involves natural language understanding, computer vision and audio processing technologies, and aims to promote the development and application of intelligent robot assistants in information systems.
SIPSorcery. A WebRTC, SIP and VoIP library for C# and .NET. Designed for real-time communications apps.
FlingOS. An educational operating system written in C#. A great stepping stone from high to low-level development.
YetAnotherForum.NET (YAF.NET) ASP.NET Open Source Forum solution.
Catalyst is a C# Natural Language Processing library built for speed. Inspired by spaCy's design, it brings pre-trained models, out-of-the box support for training word and document embeddings, and flexible entity recognition models.
HiSocket. It is a lightweight client socket solution, you can used it in Unity3d or C# project.
Bread Player, a free and open-source music player powered by UWP and C#/.NET with a sleek and polished design built for, and by, the people seeking a better alternative to Groove and Windows Media Player by Microsoft.
nopCommerce. The most popular open-source eCommerce shopping cart solution based on ASP.NET Core.
The future of modern application development with .NET | Scott Hunter
This video was published by Microsoft Developer (400K subscribers).
".NET 6 is the next version of .NET, a modern, open-source development platform for building apps for any OS with the best performance and productivity. It completes the unification of the platform and adds new capabilities for building web, native and hybrid apps for Linux, Windows, Mac, iOS and Android with a single codebase."
Current demand for .NET programmers in the developed countries
According to Berkeley Extension, C#/.NET software developers are among the most demanded in the world. The simplicity of creating web applications and services, platform independence, ease of support for a software product, productivity, and most importantly, the low cost of IT infrastructure development explain it.
The framework popularity is growing every year and almost every third company requires dotnet engineers. Such a deficit stimulates the search far beyond a city or even a country where the IT business is headquartered.
The average MS DOT NET developer salary in the world
It is quite challenging to get a single salary level for any software developer. To estimate an appropriate rate, you should consider experience, region, type of employment and many other variables.
The average salary in different countries is also calculated differently: annually, monthly, hourly, Gross (before taxes and deductions are taken out) or Net.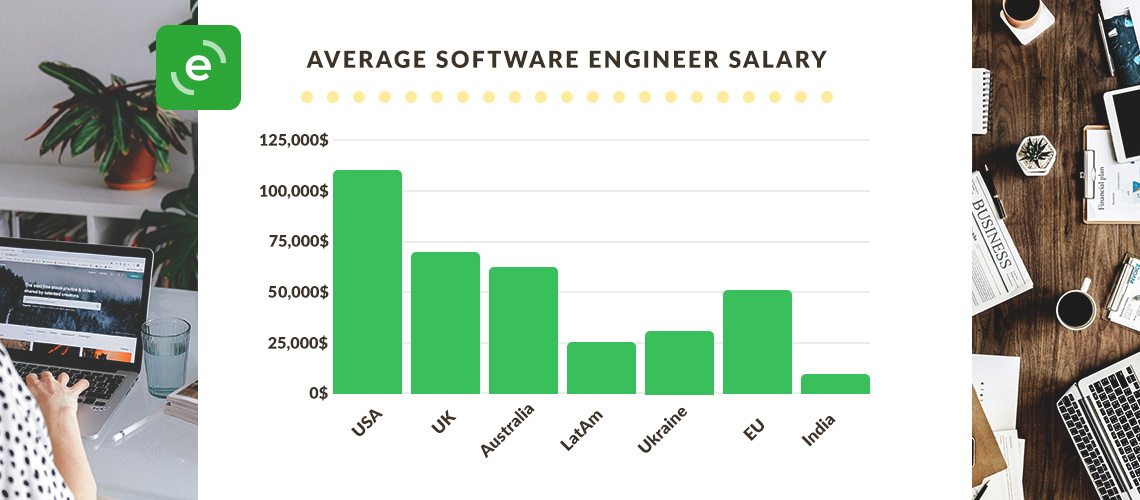 Sources: Indeed, Glassdoor, Seek, DOU, Computrabajo, Naukri, StackOverflow
Comparing annual salaries in various countries, the United States is predictably on the top with its average salaries over $100,000 per year before taxes. California is still number one, but we won't be surprised if Texas can become the next Silicon Valley in the states.
The UK and Australia are keeping 2nd and 3rd places as their salaries offered to .NET developers are around $70,000 on average. Northern and Western European companies offer approximately $50,000 (42K euros) to their local middle-level software engineers. Eastern Europe and Ukraine, in particular, share very similar median rates to Latin America which are $25-35K per year. Indian specialists expect around $13,000 (1 million rupees) per year.
While India seems to be the most cost-effective option, the cheapest solutions are not always the best. The truth is that you should be ready to pay for quality, regardless of the country your developer comes from.
How much does it cost to hire full-time C#/.NET developers in Ukraine?
The most obvious answer is to get the real numbers from the local IT platforms or job boards like DOU. It can be $1,400, $3,500 or $6,000, which indicates the monthly salary of the developer in USD:
Backend C#/.Net developer at Pine Software ($2500–3500).
.NET Lead — project with a legacy code at Datarob ($5000–7000).
Middle / Senior ASP.NET Developer at Cadence Development ($3000-4000).
Senior .NET Full-Stack Developer at EVOLVE Dev ($4000–6000).
.NET Developer (C#) Junior/Mid at Solvexus ($1400–2600).
But, there's always a but, as you know.
The biggest mistake CTOs, product managers and startup founders make when hiring remotely and comparing prices is they ignore the embedded costs. In fact, there are numerous and substantial overhead costs (up to 50%) on top of the salaries mentioned above. For example:
Recruiting and HR management
Paid vacations, public holidays and sick leaves
Payroll, taxes and legal support
Workplace setup, hardware and software
Professional education reimbursement
And if you choose a hard way to hire dotnet developers directly on your own, you need to take care of these tasks.
As an alternative, you can work with a tech partner such as Echo and focus on your core business goals instead. Going this route will save you a considerable amount of time and energy.
Other Ukraine .NET Development Companies that might be worth you attention
Alternatively, you can explore Echo network of trusted software development firms like Exoft, Chudovo, inVerita, Abto Software, Leobit, GroupBWT, Redwerk, Magnise, Codica, Artelogic. Please, find more information about them in our directory.
OK. Let's get started. What are the next steps?
With Echo, hiring a full-time Microsoft .NET developer or even the entire R&D team is a simple process:
Gathering Requirements. We start by hearing out your requirements, including project details, job descriptions, team size, workflow and cultural key points. No one-size-fits-all questionnaires.
Selection and Validation. Our HR and tech experts thoroughly interview candidates. You approve each developer and give us the green light to hire them. Once all parties come to an agreement, the work starts.
Launch and Ongoing Support. Our involvement in the process doesn't end when we deliver a needed talent to you. We act as a mediator between the new hire and you to ensure a healthy and long-lasting relationship.
Unlike many of our competitors, we don't give you any false expectations of bringing in a bunch of senior developers the very next day. Finding, validating and hiring the right candidate always takes some time. We utilize our experience, expertise and network to make it happen as soon as feasibly possible.
Drop us a line to get the conversation started today!
Frequently Asked Questions (FAQ)
Do you sign an NDA?
Yes, we do. Our developers also are covered under non-disclosure agreements and confidentiality clauses.
Is it possible to hire dotNET consultants with your help in other locations, not only in Ukraine?
Sure. We are headhunting tech experts from other parts of Eastern Europe (Poland, Moldova, Romania), Baltic (Lithuania, Latvia, Estonia), Balkans (Bulgaria, Macedonia, Albania, Serbia, Montenegro, Croatia, Bosnia), Turkey, Caucasus (Azerbaijan, Armenia, Georgia). Almost everywhere in the CEE region except Russia and Belarus.
I'm not a technical guy. Can a non-technical person manage remote software engineers?
Most of our clients are tech-savvy persons at the positions like CTO, COO, VP Engineering, Head of Development, Team Lead, Technical Product Manager who manage our developers directly. However, if needed we can provide an experienced part-time or full-time project manager on our end to handle collaboration smoothly.