Custom Java Development Services with Echo
Hire Java Developers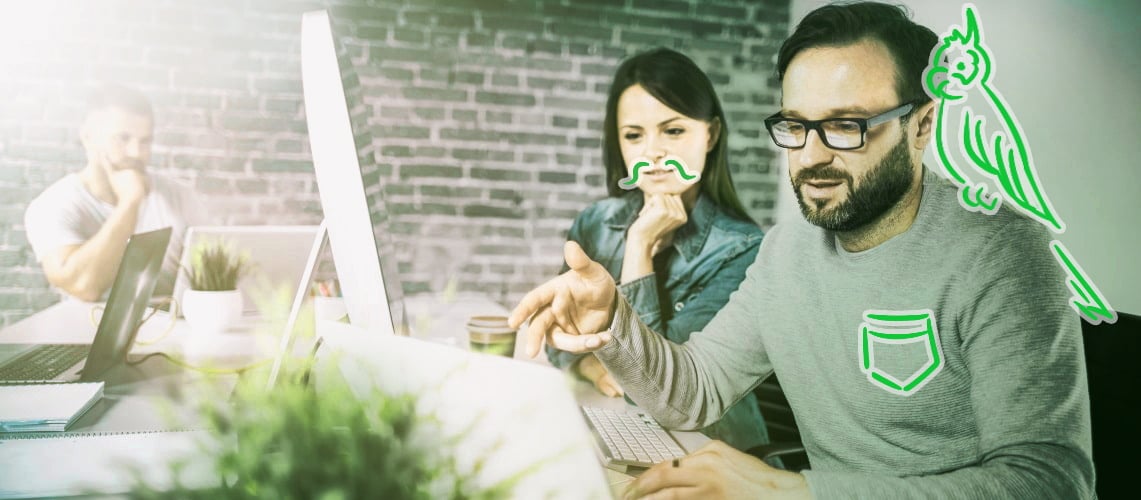 Most organizations in the world use Java in one way or another.
According to TIOBE, Java is the 2nd most popular programming language in the world. Since 2002, it has occupied top positions in the ranking, and now it owns as much as 11.17% of the industry. Java is a proven choice and whatever ideas or tasks you might have certified developers at Echo with years of experience can deliver your projects with great devotion and meeting high standards.
The right Java development company for your project
Many software developers around the world are striving to master Java technologies and frameworks to perfection.
According to ZDNet journalist Liam Tung, there are 7.6 million Java specialists on the modern market, which is roughly 20% of all programmers on the planet. Therefore, this prevalence of Java helps to find a professional who is ideal for the project among millions of talents. You can catch a big fish only if a pond is big enough.
"Java is to JavaScript what Car is to Carpet." — Chris Heilmann
So, how to find a qualified Java developer with the proper knowledge and skills?
The best option is to turn to professional recruiters, who have proven channels and tools for finding tech personnel in the IT industry. But you should understand that different headhunters use different search methods, and you never know for sure if they will be really efficient and profitable in your case. And the whole process may take several months.
There is an alternative option – an independent search on hiring platforms such as:
Upwork. 27 Best Freelance Java Developers For Hire In December 2023.
Toptal. 11 Best Freelance Java Experts [Hire in 48 Hours].
UpStack Scaling Fast? Hire World-Class Java Developers with us.
Turing. Hire Java Developers Remotely with Turing | 1 Million+ Vetted.
Arc.dev Hire the Best Java Engineer.
Guru. Hire Freelance Java Developers & Programmers Online.
Fiverr. Top 16 Freelance java coders for Hire.
But it also does not guarantee success. Either way, the choice is yours.
If you decide to cooperate with an IT staffing or outsourcing company, the main thing is to take a responsible approach to its choice. We advise considering three essential criteria when looking for an agency: where the company is located, what terms offer and how much its services would cost you.
Pay attention to the agencies experienced in hiring Java developers, which understand the specifics of your particular project. Numerous recommendations, including from your industry competitors, is also a good indicator of professionalism.
Echo experts, who have been in the software development and IT staffing market since 2013, are confident in the power of positive feedback. Often, such recommendations of satisfied customers lead to the establishment of a new partnership.
So, if the selected vendor has cases relevant to your projects, 5 minutes would be enough for you to understand whether its qualifications are suitable for solving your issues. For example, on the Echo website, you can find a portfolio and a detailed description of each project with an indication of partner brands. You can contact our clients anytime to get their opinion about us and make sure you are in good hands.
Typical Projects that We can Deliver
5 more reasons to hire Java developers with Echo
Simple Pricing. Our business model expects hiring developers on a full-time basis and charging monthly rates accordingly, which include their salary, all indirect costs, and our fee. No upfront payments.

Infrastructure Setup. The main goal of Echo is to build a comfortable work environment so people want to stay for the long term. Just remember, when you invest in your team, it invests back in you.

Probation Period. We have a trial period that lasts three months after a new hire. This means you can end your relationship with the engineer and request a replacement (if needed) with only a single day's notice.

Talent Retention. You should try to establish a more extended collaboration with remote engineers. With this in mind, our HR and account managers know how important it is to retain each and every talent you hire with us.
Direct Communication. By managing remote developers, you have complete control over the project's quality. Get the fastest possible business growth with the right team control.
Successful digital products built with Java
Java is everywhere. New products are being made with this awesome technology and some of the biggest and most successful companies in the world are incorporating Java into their tech stack — Zoom, Walmart, Twitter, Grammarly, Uber, and Fiverr.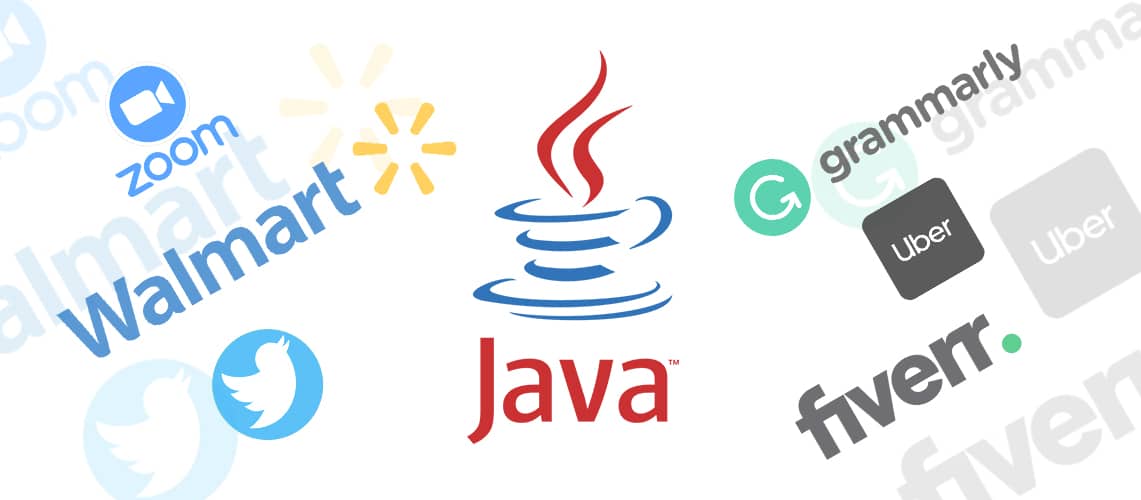 Sources of logotypes: Wikipedia, TechCrunch, Pinterest, Twitter, Depositphotos, Dribble.
Let's explore what these companies do. Most of them need no introduction:
Zoom is a cloud-based video conferencing tool that lets you host virtual one-on-one or team meetings easily.
Walmart Marketplace is a curated community of professional sellers who offer only top-quality, authentic products and best-in-class customer service.
Twitter is widely recognized as one of the most open social networks.
Millions trust Grammarly's free writing app to make their online writing clear and effective.
Uber is a ride-sharing app that connects passengers with drivers.
Fiverr connects businesses with freelancers offering digital services in 300+ categories.
Not only the big guys are using Java and Oracle technologies in their production. Many of our customers adore it and hire remote back-end software engineers with our help.
Top 10 open-source projects on Github
Apache Dubbo is a high-performance, java based, open-source RPC framework.
libGDX is a cross-platform Java game development framework based on OpenGL (ES) that works on Windows, Linux, macOS, Android, your browser and iOS.
ThingsBoard is an open-source IoT platform for data collection, processing, visualization, and device management.
OpenRefine is a Java-based power tool that allows you to load data, understand it, clean it up, reconcile it, and augment it with data coming from the web.
Activiti is a lightweight workflow and Business Process Management (BPM) Platform targeted at business people, developers and system admins.
Hazelcast is a distributed computation and storage platform for consistently low-latency querying, aggregation and stateful computation against event streams and traditional data sources.
The bitcoinj library is a Java implementation of the Bitcoin protocol, which allows it to maintain a wallet and send/receive transactions without needing a local copy of Bitcoin Core.
Traccar is an open-source GPS tracking system. This repository contains a Java-based back-end service. It supports more than 200 GPS protocols and more than 2000 models of GPS tracking devices.
JMusicBot. A cross-platform Discord music bot with a clean interface, and that is easy to set up and run yourself.
jMonkeyEngine is a 3-D game engine for adventurous Java developers. It's open-source, cross-platform, and cutting-edge.
Advantages of using Java over other technologies
The word "Java" is familiar to everyone, even those that have never worked in the field of IT. But the secret of popularity is relatively simple. It can be attributed to these facts:
The language is relatively easy to learn. Anyone can start using it with just a basic understanding of programming.
It is evolving. For more than twenty years this language develops and adjusts to the needs of information technologies.
It is machine-independent and can be used on Windows, Linux as well as Mac.
A great community of supporters with different areas of expertise.
It is everywhere. From Android and Web applications to IoT tools.
The Future of Java: Will You Have to Pay For It? | Trisha Gee & Daniel Bryant
This video was published by GOTO Conferences (300K subscribers).
Current demand for Java programmers in the developed countries
The subject-matter Java experts are always valuable because they can adapt to changes in the industry and quickly master everything new.
At the same time, the situation in the IT market is not all rosy as there are only 4% of staff who are open to new work, which is catastrophically tiny. The fact that 60% of organizations require Java specialists right now explains high competition in the market.
According to the forecast of industry experts, the situation will not stabilize in the coming years, and one of the reasons for this is the massive transition of businesses to the digital world under the influence of the pandemic.
The average Java developer salary in the world
The average developer's salary is the best indicator of the demand for their services in the market.
According to the latest data, in the United States, Java specialists receive an average of $110K annually, in the United Kingdom and Australia – $70K, in South America – $25K. However, in India, their services are the most affordable as the average salary is $12K / per year. As for Ukraine and other post-Soviet countries, a business can hire medium-level technical personnel for approximately 30 thousand dollars per year.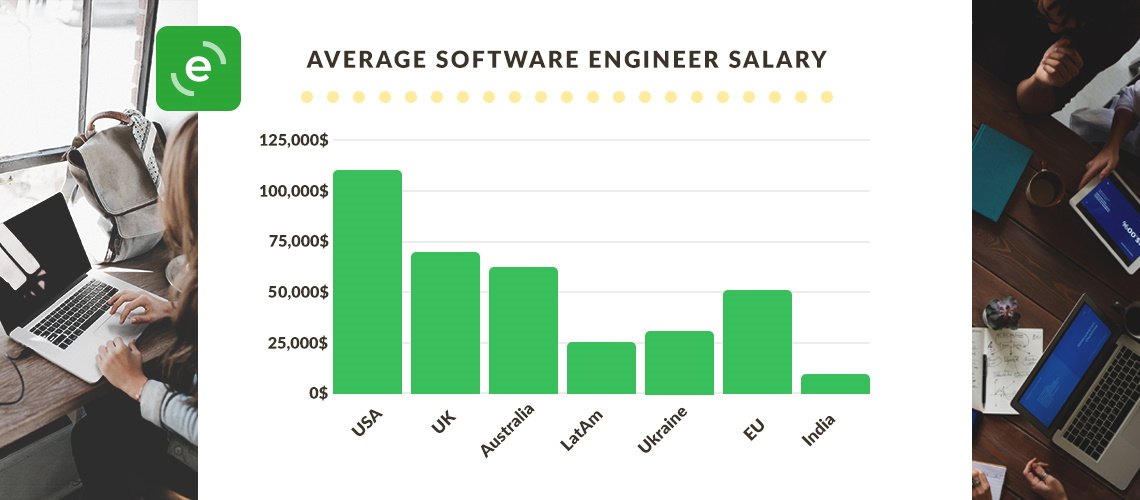 Sources: Indeed, Glassdoor, Seek, DOU, Computrabajo, Naukri, StackOverflow
Keep in mind that these salary indicators are not fixed and can vary because of many factors: fluctuations in demand and supply, the geography of services (for example, in Eastern Europe and the USA, salary is calculated on an hourly or yearly basis, in the CIS — on a monthly basis), individual requirements of companies to applicants. A couple of aspects are essential in the final salary numbers: the level of professionalism of the applicants, ability to present their skills at an interview and during the probation period.
We expect the growth of demand for Java experts over the next five years. It will lead to a reassessment of values by the specialists themselves. They will become more demanding in terms of work conditions and their compensation.
Do you want to find a competent developer for a long-term project and not overpay? Then you should start your search now.
How much does it cost to hire full-time Java developers in Ukraine?
The most obvious answer is to get the real numbers from the local IT platforms or job boards like DOU. It can be $2,000, $3,500 or $6,000, which indicates the monthly salary of the developer in USD:
Sr Java/React Developer at Anwendo ($4500–6500).
Java developer at Mifort Solutions ($1500–2500).
Senior/Middle Java Engineer at TheRaven ($2500–5000).
Senior Software Engineer – Java (d/f/m) at Omio ($6000-8000).
Middle Java Engineer at Open Bet ($2000–3500).
But, there's always a but, as you know.
The biggest mistake CTOs, product managers and startup founders make when hiring remotely and comparing developers is they ignore the embedded costs. In fact, there are numerous and substantial overhead costs (up to 50%) on top of the salaries mentioned above. For example:
Recruiting and HR management.
Paid vacations, public holidays and sick leaves.
Payroll, taxes and legal support.
Workplace setup, hardware and software.
Professional education reimbursement.
And if you choose a hard way to hire Java programmers directly on your own, you need to take care of these tasks.
As an alternative, you can work with a tech partner such as Echo and focus on your core business goals instead. Going this route will save you a considerable amount of time and energy.
Other Ukraine Java Development Companies that might be worth you attention
Alternatively, you can explore Echo network of trusted software development firms like Envion Software, ITernal Group, Mangosoft, mcpk., Intellica, Eastern Peak, Scalamandra, LANARS, Devlight, LITSLINK. Please, find more information about them in our directory.
OK. Let's get started. What are the next steps?
With Echo, hiring a full-time Java developer or even the entire back-end development team is a simple process:
Gathering Requirements. We start by hearing out your requirements, including project details, job descriptions, team size, workflow and cultural key points. No one-size-fits-all questionnaires.
Selection and Validation. Our HR and tech experts thoroughly interview candidates. You approve each developer and give us the green light to hire them. Once all parties come to an agreement, the work starts.
Launch and Ongoing Support. Our involvement in the process doesn't end when we deliver a needed talent to you. We act as a mediator between the new hire and you to ensure a healthy and long-lasting relationship.
Unlike many of our competitors, we don't give you any false expectations of bringing in a bunch of senior developers the very next day. Finding, validating and hiring the right candidate always takes some time. We utilize our experience, expertise and network to make it happen as soon as feasibly possible.
Drop us a line to get the conversation started today!
Frequently Asked Questions (FAQ)
Do you sign an NDA?
Yes, we do. Our developers also are covered under non-disclosure agreements and confidentiality clauses.
Is it possible to hire Java consultants with your help in other locations, not only in Ukraine?
Sure. We are headhunting tech experts from other parts of Eastern Europe (Poland, Moldova, Romania), Baltic (Lithuania, Latvia, Estonia), Balkans (Bulgaria, Macedonia, Albania, Serbia, Montenegro, Croatia, Bosnia), Turkey, Caucasus (Azerbaijan, Armenia, Georgia). Almost everywhere in the CEE region except Russia and Belarus.
I'm not a technical guy. Can a non-technical person manage remote software engineers?
Most of our clients are tech-savvy persons at the positions like CTO, COO, VP Engineering, Head of Development, Team Lead, Technical Product Manager who manage our developers directly. However, if needed we can provide an experienced part-time or full-time project manager on our end to handle collaboration smoothly.