Custom Symfony Development Services with Echo
Hire Symfony Developers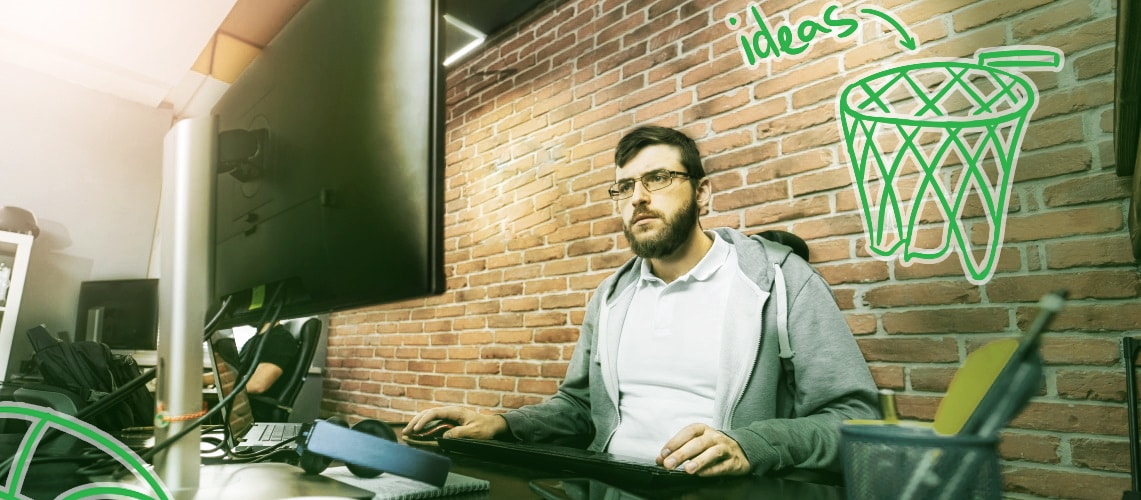 Many enterprises in the world use Symfony framework for their web applications.
It is a solid choice and whatever ideas or tasks you might have skilled PHP (Symfony) consultants at Echo with years of experience can deliver your projects with great devotion and meeting high standards.
The right Symfony development company for your project
When you need an experienced PHP developer, you can face a considerable number of offers from web development agencies, freelancers and outsourcing companies.
Choosing among them is a real challenge as with globalization, you are no more limited by your own country. It is quite possible to hire such web developers with the highest skill level just in the neighborhood of San Francisco or to get their services from a company that is located 1,000+ miles from you in Kyiv or Lviv.
"First, solve the problem. Then, write the code." — John Johnson
Location is an important factor but it is not the one-and-only that should be considered when hiring Symfony web engineers. Besides it, the type of company you apply to also matters.
As there is a diversity of offers in the IT market, you got a choice between so-called boutique firms that provide Symfony development of a project from scratch to ultimate release. There are also lots of staffing agencies and IT outsourcing companies providing custom development services. So, it is really challenging to get your dream team that will match all the requirements you have.
When you start your search for PHP coders, it is also important to make sure you really need their turnkey services. This matters for the type of employment you'll be ready to offer to them.
Taking an example, when you need a developer just from time to time to maintain your actual project or CRM, for example, it is not profitable to hire a full-time contractor to do this. A freelance developer from any talent marketplace mentioned below will cope with that task:
Toptal. 11 Best Freelance Symfony Developers [Hire in 48 Hours].
Upwork. Get to know top Symfony coders. And say hello to the newest member of your team.
Arc helps you find top Symfony consultants who pass our Silicon Valley-caliber vetting process.
Turing. Hire the best remote Symfony developers on-demand.
X-Team provides high-performing teams of Symfony programmers to the world's leading brands.
Fiverr. Find the most talented Symfony PHP experts to bring your ideas to life.
Yet, for a full-fledged PHP/JS project or long-lasting maintenance of the web software based on Symfony framework, applying for outsourcing or recruiting company can be a win-win option. With this B2B business model, you'll get the work done by a team of dedicated PHP (Symfony) developers fully meeting your requirements.
The last option also allows you to get services from highly skilled developers without being stick to your location as not all IT professionals are gathered in Silicon Valley. Companies and developers from Latin America or Ukraine are no less talented while their services are less costly. How you can get in touch with them, you may ask. There are three major ways on how to choose the outsourcing/staffing company for your goals:
Ask friends and business partners for their recommendations.
Place an ad on the matchmaking services like Aciety, YouTeam, Supersourcing, etc.
Just google for a PHP outsourcing or staffing company you need.
Each of these options has its pros and cons, but the key factor on how to validate potential team members or an outsourcing partner is checking references. Our IT staffing and team augmentation company could serve as an example of an organization with impeccable references. You are welcome to apply for them to make your choice without a doubt.
5 reasons to hire Symfony consultants with Echo
Diverse Experience. Our specialists have significant experience working with young startups, large enterprises, forward-thinking entrepreneurs, and various social projects. Every part of our extensive knowledge is used to create a unique project for you.

Direct Communication. By managing remote developers, you have complete control over the project's quality. Get the fastest possible business growth with the right team control.

Account Management. All of our Echo managers are dedicated to their clients. Every day, they help you maintain and adequately develop the relationship between you and your remote development team in Ukraine. Regardless of whether your request is complex or straightforward, we strive to be a reliable bridge between your specialists and you.

Infrastructure Setup. The main goal of Echo is to build a comfortable work environment, so people want to stay for the long term. Just remember, when you invest in your team, it invests back in you.

Technical Backbone. Don't think of us as just a recruiting agency! All people behind Echo have deep knowledge and skills in the IT industry, as well as a strong passion for technology and a culture of innovation.
Successful digital products built with Symfony
PHP is everywhere. New products are being made with this awesome technology and some of the biggest and most successful companies in the world are incorporating Symfony framework into their tech stack — Magento, Blablacar, Trivago, Spotify, Dailymotion, and Upwork.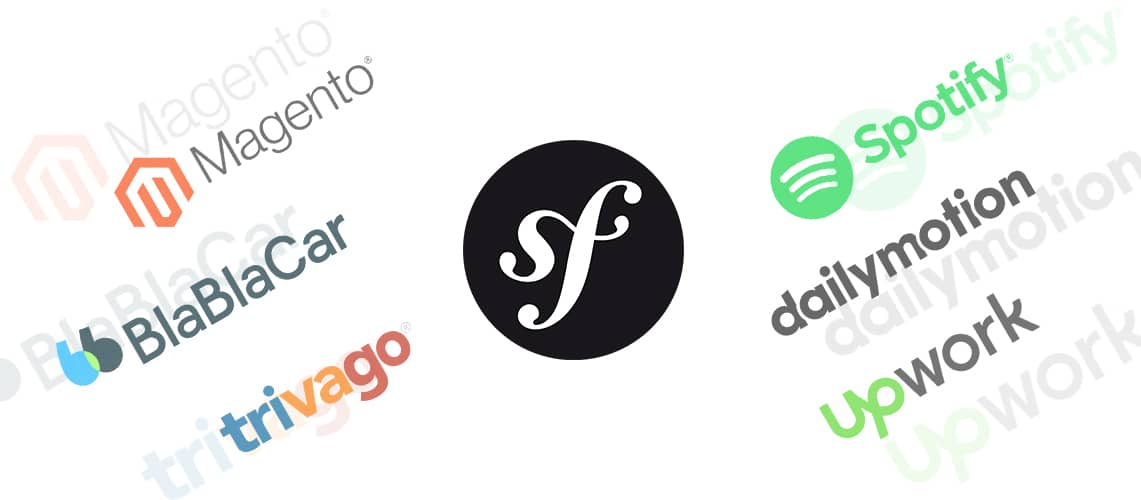 Sources of logotypes: Wikipedia, TechCrunch, Pinterest, Twitter, Depositphotos, Dribble.
Let's explore what these companies do. Most of them need no introduction:
Magento empowers thousands of retailers and brands with the best eCommerce platforms and flexible cloud solutions.
BlaBlaCar is the world's leading long-distance carpooling platform.
Trivago is a metasearch engine that helps people browse deals from over 900,000 hotels around the world.
Spotify is a digital music, podcast, and video service that gives you access to millions of songs and other content from creators all over the world.
Dailymotion is rated as the second largest platform for watching videos online.
Upwork connects businesses with freelancers, independent talent, and agencies around the globe.
Not only the big guys are using Symfony framework in their production. Many of our customers adore it and hire remote PHP software engineers with our help.
Advantages of using Symfony over other technologies
The diverse real-life application of Symfony framework is a result of the combination of features that give this technology an edge over others:
Exceptional flexibility. Components and bundles are amazing features that truly set SF apart from the other PHP frameworks. Dependencies across the system are finally minimized.
When it comes to testing, Symfony makes a coder's life easier. No strict dependencies, reusable bundles, and automated functional testing transform the testing process from daunting to simple and efficient.
Great for enterprise applications. Symfony can make the most complex large-scale applications come to life. Web developers can easily add new components to enhance the app over time.
Perfect for APIs and Microservices. The lightweight architecture, which is one of the advantages, makes it a great choice for APIs and Microservices projects.
Regular updates. Symfony regularly rolls out new versions and provides long-term support for all of them. Backward compatibility is also part of the equation which ensures high performance of applications at all times.
Community and documentation. As an open-source framework, Symfony is made by thousands of passionate developers. It also boasts clean, simple and insightful documentation, which is always up-to-date.
Top 10 open-source projects on Github
Grav. Modern, Crazy Fast, Ridiculously Easy and Amazingly Powerful Flat-File CMS.
Sylius is an Open Source eCommerce platform on top of Symfony.
Pagekit is a modular and lightweight CMS built with Symfony components and Vue.js.
Bolt is a simple CMS written in PHP. It is based on Silex and Symfony components, uses Twig and either SQLite, MySQL or PostgreSQL.
EasyAdmin is a fast, beautiful and modern admin generator for Symfony applications.
Drush is a command-line shell and scripting interface for Drupal, a veritable Swiss Army knife designed to make life easier for those who spend their working hours hacking away at the command prompt.
Kimai is a web-based multiuser time-tracking application. Free for everyone: freelancers, agencies, companies, organizations – all can track their times, generate invoices and more.
OroCRM – an open-source Customer Relationship Management application.
GosWebSocketBundle is a Symfony bundle built on top of Ratchet and Autobahn.JS designed to bring together websocket functionality in easy-to-use application architecture.
CoopCycle is a self-hosted platform to order meals in your neighborhood and get them delivered by bike couriers. The only difference with proprietary platforms as Deliveroo or UberEats is that this software is reserved to co-ops.
A story of Symfony creators | SensioLabs (English Subtitles)
This video was directed by the French government.
"Fabien Potencier and Grégory Pascal created SensioLabs in 2012. Their company provides the open-source framework Symfony, enabling web developers to work better and faster. It is now used by 12 to 15% of websites all over the world."
Current demand for Symfony programmers in the developed countries
As Symfony is still keeping first place as a coding framework for complex web apps including CRMs and ERPs, the demand for its developers is high. Due to great architecture and wide community, that PHP framework opens up a vista for e-commerce and business goals to be implemented on the web.
Only on LinkedIn, the number of jobs offered to Symfony developers is over 80,000 and it is just in the United States! In Great Britain and other developed European countries, those numbers are also quite impressive. While there are lots of offers, local web developers cannot fully keep up with the demand.
To fulfill that demand, employers turn their faces to remote Symfony developers' teams working worldwide. This solution has its benefits as web developers from Ukraine or Argentina are no less skilled and certified than their US/UK colleagues but their salaries are still lower.
The average PHP (Symfony) developer salary in the world
Considering software developers' salaries, it is quite difficult to get an average number as in different countries this indicator can differ several times. Besides, in almost every country except Eastern Europe, statistics take a yearly salary as a basis. Instead of this, Ukrainian pros, for example, are operating monthly rates. One more fact that impacts average salary is the level of the developer's qualification. It is pointless to compare the salaries of junior engineers and their senior colleagues.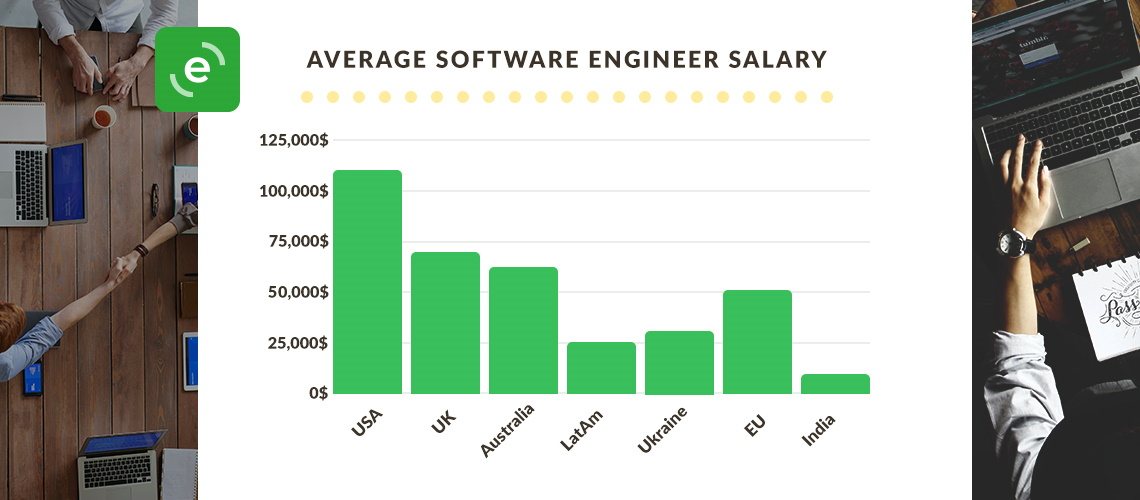 Sources: Indeed, Glassdoor, Seek, DOU, Computrabajo, Naukri, StackOverflow
If we look at the graph listed above, the United States is predictably on the top with its average salaries over $100,000 per year before taxes. California is still number one, but we won't be surprised if Texas can become the next Silicon Valley in the states.
The UK and Australia are keeping 2nd and 3rd places as their salaries offered to Symfony web developers are around $70,000 on average. Northern and Western European companies offer approximately $50,000 (42K euros) to their local middle-level software engineers. Eastern Europe and Ukraine, in particular, share very similar median rates to Latin America which are $25-35K per year. Indian specialists expect around $13,000 (1 million rupees) per year.
While India seems to be the most cost-effective option, the cheapest solutions are not always the best. The truth is that you should be ready to pay for quality, regardless of the country your developer comes from.
How much does it cost to hire full-time PHP developers in Ukraine?
The most obvious answer is to get the real numbers from the local IT platforms or job boards like DOU. It can be $2,000, $3,500 or $5,500, which indicates the monthly salary of the developer in USD:
Middle PHP Developer (Symfony) at stfalcon | $2000–3500.
PHP developer at obmenka.ua | $3500–5000.
Senior PHP Developer at Clicca | $4500–5500.
Middle/Senior PHP Symfony Developer at IO Technologies | $3500–5000.
Senior PHP Backend Developer at PRNEWS | $4000–5500.
But, there's always a but, as you know.
The biggest mistake CTOs, product managers and startup founders make when hiring remotely and comparing developers is they ignore the embedded costs. In fact, there are numerous and substantial overhead costs (up to 50%) on top of the salaries mentioned above. For example:
Recruiting and HR management.
Paid vacations, public holidays and sick leaves.
Payroll, taxes and legal support.
Workplace setup, hardware and software.
Professional education reimbursement.
And if you choose a hard way to hire Symfony programmers directly on your own, you need to take care of these tasks.
As an alternative, you can work with a tech partner such as Echo and focus on your core business goals instead. Going this route will save you a considerable amount of time and energy.
Other Ukraine Symfony Development Companies that might be worth you attention
Alternatively, you can explore Echo network of trusted software development firms like Asabix, Artjoker, SkyUp Studio, DDI Development, ProCoders, IT Delight, FLAMIX, FORFORCE, Uinno, Lazy Ants. Please, find more information about them in our directory.
OK. Let's get started. What are the next steps?
With Echo, hiring a full-time PHP (Symfony) developer or even the entire back-end team is a simple process:
Gathering Requirements. We start by hearing out your requirements, including project details, job descriptions, team size, workflow and cultural key points. No one-size-fits-all questionnaires.
Selection and Validation. Our HR and tech experts thoroughly interview candidates. You approve each developer and give us the green light to hire them. Once all parties come to an agreement, the work starts.
Launch and Ongoing Support. Our involvement in the process doesn't end when we deliver a needed talent to you. We act as a mediator between the new hire and you to ensure a healthy and long-lasting relationship.
Unlike many of our competitors, we don't give you any false expectations of bringing in a bunch of senior web developers the very next day. Finding, validating and hiring the right candidate always takes some time. We utilize our experience, expertise and network to make it happen as soon as feasibly possible.
Drop us a line to get the conversation started today!
Frequently Asked Questions (FAQ)
Do you sign an NDA?
Yes, we do. Our developers also are covered under non-disclosure agreements and confidentiality clauses.
Is it possible to hire PHP Symfony consultants with your help in other locations, not only in Ukraine?
Sure. We are headhunting tech experts from other parts of Eastern Europe (Poland, Moldova, Romania), Baltic (Lithuania, Latvia, Estonia), Balkans (Bulgaria, Macedonia, Albania, Serbia, Montenegro, Croatia, Bosnia), Turkey, Caucasus (Azerbaijan, Armenia, Georgia). Almost everywhere in the CEE region except Russia and Belarus.
I'm not a technical guy. Can a non-technical person manage remote software engineers?
Most of our clients are tech-savvy persons at the positions like CTO, COO, VP Engineering, Head of Development, Team Lead, Technical Product Manager who manage our developers directly. However, if needed we can provide an experienced part-time or full-time project manager on our end to handle collaboration smoothly.