Custom Angular Development Services with Echo
Hire Angular Developers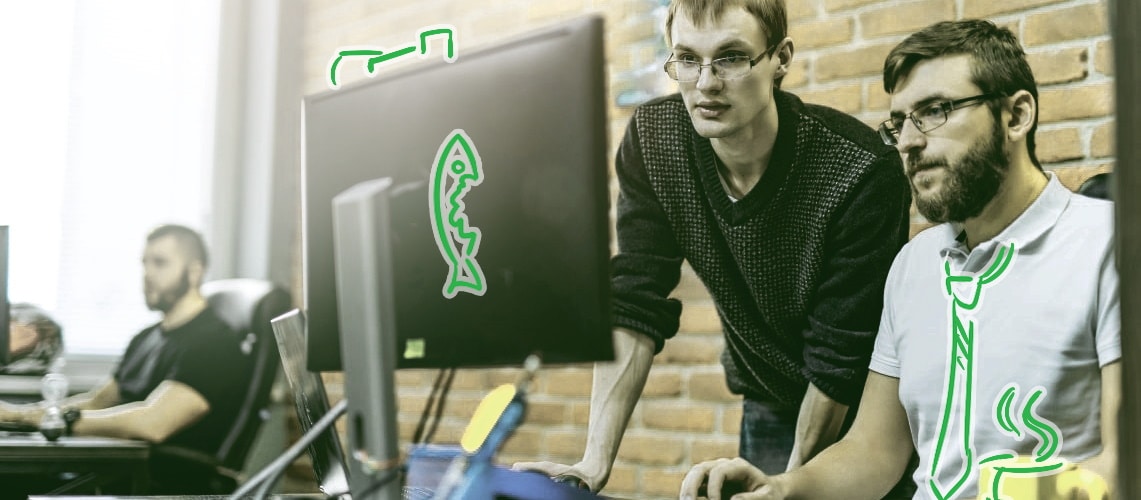 Most organizations in the world use Javascript in one way or another.
Angular.js is most suited to solve your front-end development challenges. Whatever ideas or tasks you might have skilled Angular developers at Echo with years of experience can deliver your projects with great devotion and meeting high standards.
The right Angular development company for your project
There are plenty of agencies and companies all over the world that offer custom web app development based on Angular platform, so it can be tricky knowing which development team to choose for your project.
Perhaps the right company is located in the same building as your office or you can find a great remote team in India or Ukraine.
"Always code as if the guy who ends up maintaining your code will be a violent psychopath who knows where you live." — John F. Woods, a game programmer.
Location is not the only factor to take into account when choosing an AngJS development company though.
You should also consider the type of service each company offers. For example, do you need only minor tweaks or occasional maintenance? In that case, you will not need an in-house or remote full-time developer. The best choice might be a freelancer from:
DevTeam.Space. Top 10 Expert Angular.JS Developers to Hire
Turing. Hire Angular Developers in October 2023.
Upwork. Get to know top AngularJS programmers. And say hello to the newest member of your team.
Toptal. 11 Best Freelance Angular Developers [Hire in 48 Hours].
Arc helps you find awesome Angular consultants.
PeoplePerHour. Looking for top-quality Freelance Angular Developer talent? We got you covered.
However, if you require something more in-depth, you might prefer a full-fledged Javascript development company that offers turnkey services including outsourcing or recruiting agencies to ensure the right software engineers are matched with your exact project specifications.
To find the right team for your project needs, consider these tips: search for an outsourcing company on Google, ask friends for recommendations, and place an ad on B2B matchmaking services. These suggestions can help guide you towards the best choice.
Don't forget the importance of checking references before hiring anyone. This should be a priority as you search and vet potential candidates. References are a key factor in the decision-making process since they will offer true insights into the service quality of the company.
Typical Projects that We can Deliver
5 reasons to hire JS (Angular) developers with Echo
Simple Pricing. Our business model expects hiring developers on a full-time basis and charging monthly rates accordingly, which include their salary, all indirect costs, and our fee. No upfront payments.

Established Company. Our activity began in 2013, and since then, our team has remained flexible to attend to the needs of each client. At the same time, we are mature enough to be considered a reliable service provider.

Probation Period. We have a trial period that lasts three months after a new hire. This means you can end your relationship with the engineer and request a replacement (if needed) with only a single day's notice.

Diverse Experience. Our specialists have significant experience working with young startups, large enterprises, forward-thinking entrepreneurs, and various social projects. Every part of our extensive knowledge is used to create a unique project for you.

Technical Backbone. Don't think of us as just a recruiting agency! All people behind Echo have deep knowledge and skills in the IT industry, as well as a strong passion for technology and a culture of innovation.
Successful digital products built with Angular
Javascript is everywhere. New apps are being made with this awesome technology and some of the biggest and most successful companies in the world are incorporating Angular.js into their tech stack — Indiegogo, Twilio, Gmail, Forbes, Mercato, and DocuSign.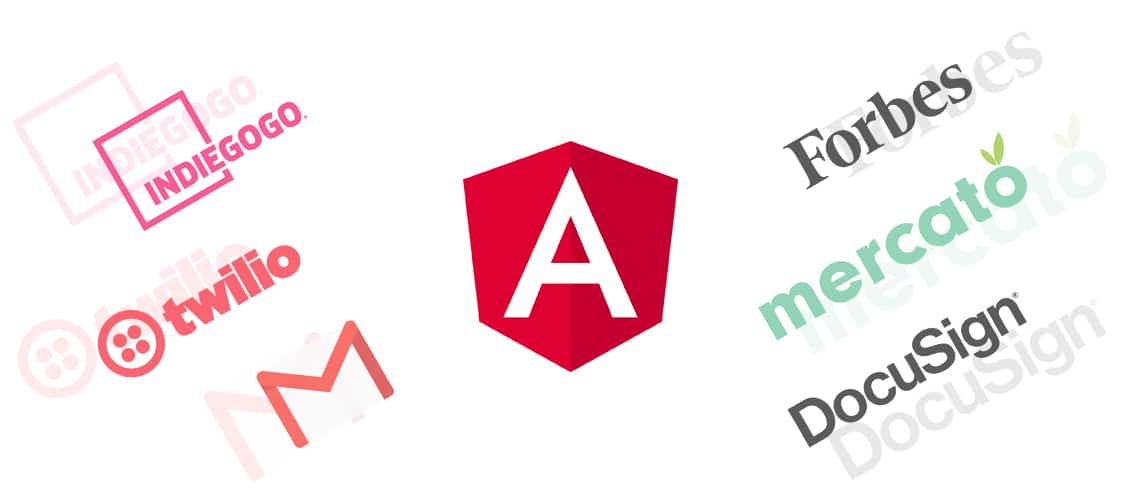 Sources of logotypes: Wikipedia, TechCrunch, Pinterest, Twitter, Depositphotos, Dribble.
Let's explore what these companies do. Most of them need no introduction:
Indiegogo is a crowdfunding platform for creative, tech, and community projects.
Twilio provides communication APIs for SMS, voice, video and authentication.
Gmail is a free email service provided by Google.
Forbes is a global media company, focusing on business, technology, entrepreneurship, leadership, and lifestyle.
Mercato empowers grocers with easy-to-use marketing, e-commerce, and service tools.
DocuSign is the fastest, most secure way to sign, send, and store documents in the cloud.
Not only the big guys are using Angular framework in their web applications. Many of our customers adore it and hire remote FE Angular developers with our help.
Top 10 open-source projects on Github
Ngx-Admin. The most popular and trusted Angular open-source dashboard template is out there.
PeerTube is a free, decentralized and federated video platform.
OpenProject is the leading open source project management software.
Soundnode App is the Soundcloud for desktop. Built with Electron, Angular.js and Soundcloud API.
Oppia is an online learning tool that enables anyone to easily create and share interactive activities (called 'explorations').
The Angular Universal is a community-driven project to expand on the core APIs from Angular (platform-server) to enable developers to do a server-side rendering of Angular applications in a variety of scenarios.
Taiga. Agile project management platform. Built on top of Django and AngularJS.
LumX. The first responsive front-end framework based on Angular & Google Material Design specifications.
Spectator helps you get rid of all the boilerplate grunt work, leaving you with readable, sleek and streamlined unit tests.
Traduora. Open Translation Management Platform for teams.
Why I Choose Angular over React and Vue for Enterprise SPAs | Kerry Ritter
This video was published by TypeCasts (500 subscribers).
"The conversation around what frameworks to use is constantly going on. Lately, it seems React and Vue are the focal points of the conversation. I believe that Angular is the best tool to use in a number of scenarios when discussing building web applications, and in this video, I go over a few reasons why."
Current demand for Angular.js programmers in the developed countries
Since a number of progressive web projects actively use Angular, the demand for Javascript developers is increasing all over the globe.
A Stackoverflow survey reported that a majority of respondents believe the best coding language for their future career was Typescript. TS is a primary language for Angular application development.
LinkedIn has over 45.000 Angular programming jobs (As of October 2023) open right now and that is just in the United States. Furthermore, there are not enough university graduates to keep up with this rising demand. This is why businesses and recruiters often have to seek specialists working remotely from another country.
In addition to that, remote JS professionals are typically less expensive than those found locally. There are talented, experienced front-end developers all over the world, not just in the United States.
The average Angular developer salary in the world
Defining an 'average salary' is not as straightforward as just listing numbers. Although you could compare each country's figures mathematically, there are other factors to take into account.
There are junior and senior UI developers in most firms along with architects and other key staff. While you are reviewing salaries, you should also bear in mind that some European countries use monthly salaries instead of the annual ones you are more used to, so the figures you see might only be 1/12 of the actual annual salary.
The following chart gives an accurate idea of how salaries for Angular.js developers compare, based on location: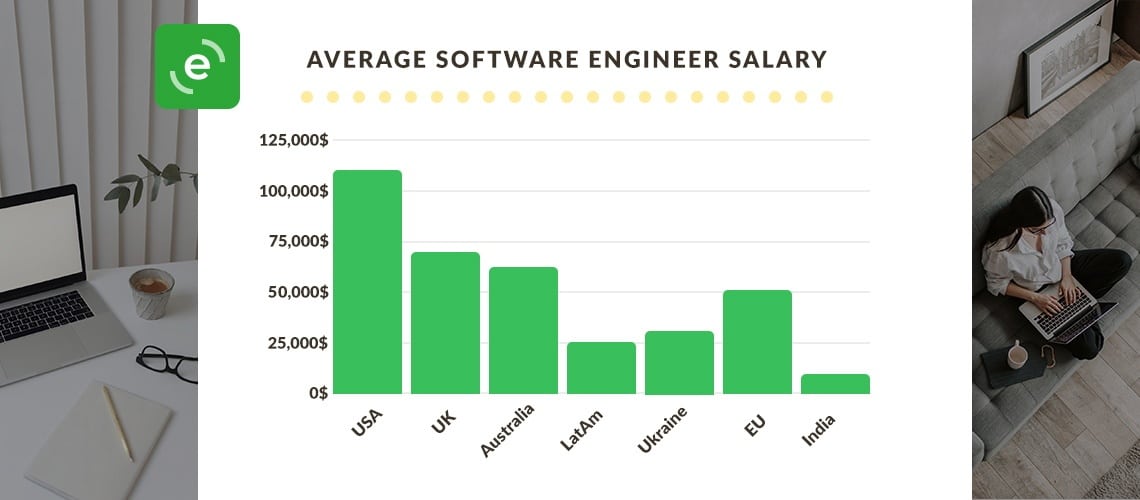 Sources: Indeed, Glassdoor, Seek, DOU, Computrabajo, Naukri, StackOverflow
The United States is predictably on the top with its average salaries over $100,000 per year before taxes. California is still number one, but we won't be surprised if Texas can become the next Silicon Valley in the states.
The UK and Australia are keeping 2nd and 3rd places as their salaries offered to front-end developers are around $70,000 on average. Northern and Western European companies offer approximately $50,000 (42K euros) to their local middle-level UI engineers. Eastern Europe and Ukraine, in particular, share very similar median rates to Latin America which are $25-30K per year. Indian specialists expect around $13,000 (1 million rupees) per year.
While India seems to be the most cost-effective option, the cheapest solutions are not always the best. The truth is that you should be ready to pay for quality, regardless of the country your developer comes from.
How much does it cost to hire full-time Angular developers in Ukraine?
The most obvious answer is to get the real numbers from the local IT platforms or job boards like DOU. It can be $2,000, $3,500 or $5,500, which indicates the monthly salary of the Angular.js developer in USD:
Middle-Senior Angular / Ionic Developer at Oriented Soft | $2500–5500.
Frontend Angular (Middle+) at OLSOM | $2500–4000.
Strong Junior JS developer at Productera | $1200–2000.
Senior Frontend Engineer at People.ai | $5000-6000.
Angular Developer at Magnise | $2000–3500.
But, there's always a but, as you know.
The biggest mistake CTOs, product managers and startup founders make when hiring remotely and comparing prices is they ignore the embedded costs. In fact, there are numerous and substantial overhead costs (up to 50%) on top of the salaries mentioned above. For example:
Recruiting and HR management
Paid vacations, public holidays and sick leaves
Payroll, taxes and legal support
Workplace setup, hardware and software
Professional education reimbursement
And if you choose a hard way to hire Angular programmers directly on your own, you need to take care of these tasks.
As an alternative, you can work with a tech partner such as Echo and focus on your core business goals instead. Going this route will save you a considerable amount of time and energy.
Other Ukraine Angular Development Companies that might be worth you attention
Alternatively, you can explore Echo network of trusted software development firms like Svitla Systems, Eastern Peak, DB2 Limited, Yojji, Simplify, Sombra, Gearheart.io, Synapse Team, Gelios, Scalors Please, find more information about them in our directory.
OK. Let's get started. What are the next steps?
With Echo, hiring a full-time Javascript (Angular) developer or even the entire Front-End dev team is a simple process:
Gathering Requirements. We start by hearing out your requirements, including project details, job descriptions, team size, workflow and cultural key points. No one-size-fits-all questionnaires.
Selection and Validation. Our HR and tech experts thoroughly interview candidates. You approve each developer and give us the green light to hire them. Once all parties come to an agreement, the work starts.
Launch and Ongoing Support. Our involvement in the process doesn't end when we deliver a needed talent to you. We act as a mediator between the new hire and you to ensure a healthy and long-lasting relationship.
Unlike many of our competitors, we don't give you any false expectations of bringing in a bunch of senior developers the very next day. Finding, validating and hiring the right candidate always takes some time. We utilize our experience, expertise and network to make it happen as soon as feasibly possible.
Drop us a line to get the conversation started today!
Frequently Asked Questions
Do you sign an NDA?
Yes, we do. Our developers also are covered under non-disclosure agreements and confidentiality clauses.
Is it possible to hire Angular consultants with your help in other locations, not only in Ukraine?
Sure. We are headhunting tech experts from other parts of Eastern Europe (Poland, Moldova, Romania), Baltic (Lithuania, Latvia, Estonia), Balkans (Bulgaria, Macedonia, Albania, Serbia, Montenegro, Croatia, Bosnia), Turkey, Caucasus (Azerbaijan, Armenia, Georgia). Almost everywhere in the CEE region except Russia and Belarus.
I'm not a technical guy. Can a non-technical person manage remote software engineers?
Most of our clients are tech-savvy persons at the positions like CTO, COO, VP Engineering, Head of Development, Team Lead, Technical Product Manager who manage our developers directly. However, if needed we can provide an experienced part-time or full-time project manager on our end to handle collaboration smoothly.