ArcGIS Development Firms in Ukraine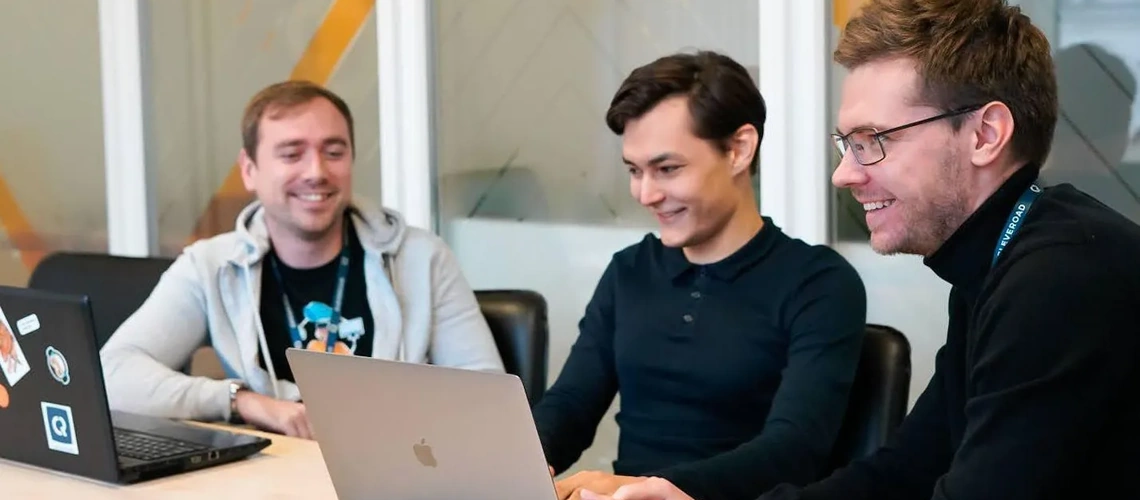 Discover top ArcGIS development companies in Ukraine renowned for offering exceptional geospatial solutions. These firms specialize in crafting innovative apps, leveraging the power of GIS, spatial analytics and location intelligence to streamline operations across various industries. Browse through our carefully curated list to find reliable partners that can help you harness the potential of geographical data with cutting-edge tools and technologies tailored to meet your specific business needs.
(i) Related tech terms: ArcGIS, geodatabase, georeferencing, GIS analysis, ArcMap, ArcCatalog, ArcToolbox, ArcScene, ArcGlobe.
Featured Websites
🥇 Looking for a skilled ArcGIS freelancer to bring your project to life? Look no further than Fiverr, the premier online marketplace for freelance services. With thousands of vetted and talented freelancers available at unbeatable prices, you'll find exactly what you need to take your GIS work to the next level. Browse our selection today!
Lviv
|
|
Andrii Kurhanevych
GIS Art is a software development company that specializes in Geographic Information Systems, providing GIS and Web applications and components to healthcare...
How to choose the right firm?
When looking for a development company, start by doing research to find a reputable, experienced firm that has a successful track record of ArcGIS development.
Ask for references and case studies to see how well the company understands the GIS technology and how they have applied it in projects for other clients. Make sure the company is knowledgeable in the latest ArcGIS tools and can provide a tailored solution that meets your specific needs. Additionally, consider the cost of development to ensure you get the most value for your money.
Five questions you should ask ArcGIS developer(s) before the hire
What experience do you have developing with ArcGIS?
What tools have you used to automate processes such as data analysis and mapping?
Describe some of the web and mobile applications you have developed using ArcGIS.
How have you used ArcGIS to integrate with other software or services?
Describe some of the techniques you have used to optimize performance when developing applications with ArcGIS.
👋 A lot of companies to analyse? Let us help you to select the trustful service provider!
Technologies that may replace ArcGIS
Thinking of other choices (alternatives) may be a decent thought:
QGIS: An open-source, free GIS software with a wide range of features and capabilities.
MapInfo: A powerful GIS software package used for mapping, analysis, data management, and visualization.
GeoServer: An open-source server for sharing, editing, and managing geospatial data.
Hire Ukrainian ArcGIS Engineers
There are many companies in Ukraine that specialize in GIS development, offering a wide range of services and solutions that can help you achieve your business goals. From enterprise GIS solutions to bespoke applications, these companies have the experience and resources to deliver high-quality, reliable products and services.
Top locations: Kyiv, Lviv, Kharkiv, Dnipro, Odesa, Zaporizhzhia, Vinnytsia, Khmelnytskyi, Ivano-Frankivsk.
The typical rate for ArcGIS development in Ukraine is around $25-$50 per hour. Rates may vary depending on the complexity of the project and the experience of the developer.
Future Trends
ArcGIS, the popular geographic information system software developed by Esri, is continuously evolving to adapt to modern technology and user needs.
Some of the future goals for ArcGIS include improving integration with other systems, enhancing cloud capabilities and mobile workflows, incorporating more artificial intelligence features such as machine learning algorithms for advanced analytics tasks, implementing augmented reality functionality in 3D visualization contexts. Overall, it seems that we can look forward to a more powerful and versatile platform from one of the industry leaders in GIS technology.