Product Manager vs Project Manager: Who is the best fit for your company?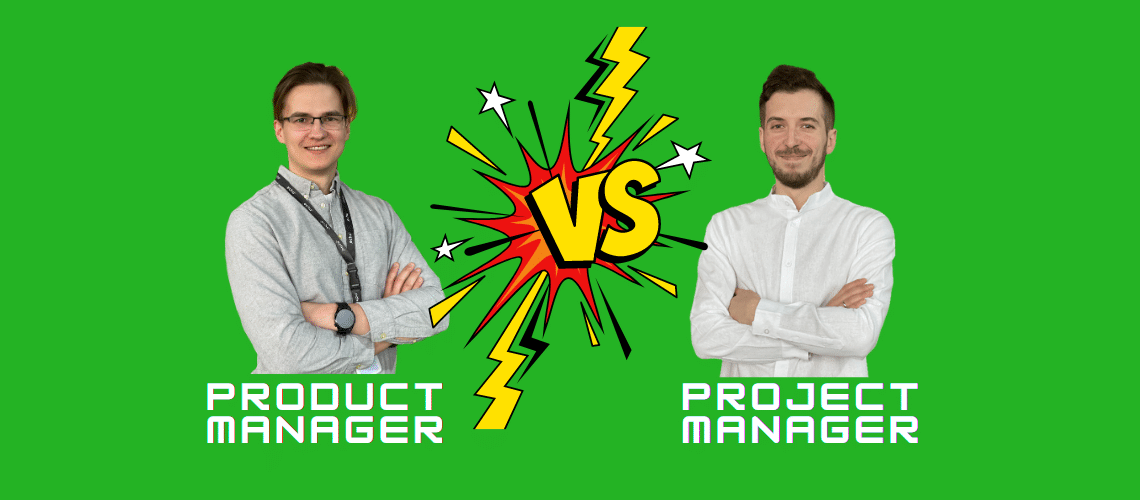 Discover the ideal role for your company's success: Product Manager or Project Manager? Uncover their unique strengths and find the perfect fit for your organization's needs.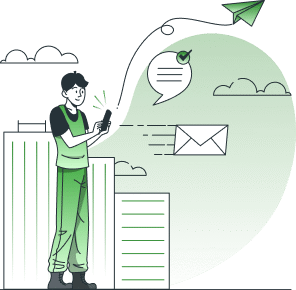 Join 2000+ tech leaders
A digest from our CEO on technology, talent and hard truth. Get it straight to your inbox every two weeks.
No SPAM. Unsubscribe anytime.
A product manager is responsible for identifying the purpose and rationale behind a product. Their main focus is on understanding customer needs and aligning business objectives to ensure that new products or features meet those needs.
A project manager is primarily concerned with the execution and timing of a project. They coordinate and oversee the various tasks involved in achieving a specific goal.
Difference between a Project and a Product
A product refers to a tangible or intangible item that satisfies the needs of a specific target market. It can encompass a broad array of items, such as software, jewelry, or even consulting services. A product undergoes various stages throughout its lifecycle, including development, market testing, and eventual release.
A project involves a collection of tasks undertaken to accomplish a defined objective. Projects are characterized by clear outcomes and deliverables, which could range from revamping a website to implementing a new internal process.
A day in the life of a Product Manager
9:00 – Check emails.
9:30 – Meet with data analyst.
10:00 – Attend standup meeting with the team.
11:00 – Work on the roadmap for the next release.
12:00 – Meet with PMs on the team.
13:00 – Lunch.
13:30 – Analyze product usage dashboard.
15:00 – Review integration and feature progress with various teams.
16:00 – Customer call and review of Proof of Concept (POC) progress.
17:00 – Engage in deep work.
18:00 – End of work.
I started working on reviewing my UX flows and finished my draft of the product specs. Next, I will have a one-on-one with my engineering manager. This is our weekly 1-on-1 meeting where we just like to check in on the status of things. Then I have a meeting with the product marketing manager, the finance and customer teams to talk about one of our products. We managed to create new objectives and our next meeting will be to come back and discuss the rest of the plan. Next, I have a call with a Fortune 500 company that is also our client. So, it is basically a customer call. We collect their feedback on our product and discuss new features and roadmaps. Next, I have a status meeting with our UX lead and Android and iOS lead.
A day in the life of a Project Manager
9:00 – Begin morning desk routine, which includes checking the calendar and opening all necessary applications.
10:00 – Engage in Zoom calls with colleagues to align on a strategy for our demo.
11:00 – Present our demo to the Product Manager.
12:00 – Participate in an internal meeting with my team to discuss roadblocks, updates, and our next steps.
13:00 – Take a lunch break.
13:30 – Start responding to emails.
14:00 – Attend a company-wide meeting to discuss OKRs, financial health, and other updates.
15:00 – Meet with the Product Manager to update them on the status of the project.
16:00 – Begin preparations for tomorrow's meeting.
18:00 – Wrap up work for the day.
I started my day by reviewing the project schedule and updating it with any changes or adjustments. Next, I held a team meeting to discuss the progress of ongoing tasks and address any roadblocks or challenges the team members were facing. We also discussed upcoming deadlines and milestones to ensure everyone was on track. Following that, I had a meeting with the stakeholders, including representatives from different departments such as development, design, and quality assurance. We reviewed the project's overall progress and discussed any risks or issues that needed attention. We also made decisions on prioritizing tasks and allocating resources accordingly. Towards the end of the day, I conducted a project review session with the Quality Assurance team to ensure that the deliverables met the required quality standards. We discussed any bugs or issues found during testing and collaborated on finding solutions or workarounds.
The most common skills and responsibilities of a Product Manager
Skills:
A highly data driven individual that interprets data correctly and efficiently to the current market.
The ability to analyze and interpret consumer data and insights.
High attention to detail.
Problem solver and a creative thinker that can provide insightful and innovative solutions to any problem.
Business acumen; a track record of delivering commercially viable products or services with a clear link to measurable company goals.
Highly collaborative approach to product development with cross-functional delivery teams and stakeholders.
Team spirit and highly effective written and verbal communication skills to lead and influence a range of technical and non-technical stakeholders.
Responsibilities:
Lead the full cycle of product management from opportunity assessment and ideation, through validation and delivery, to ongoing product management.
Working with cross-functional teams from developing a product vision, through feature and content roadmap to writing product requirements.
Through analyzing usage metrics, market research and user feedback, identify key opportunities, form product strategies and present clear measurable objectives that will lead to achieving business goals.
Facilitate workshops with business and technical stakeholders for discovery and to gather business needs and input, resolving issues and clearing obstacles.
In close collaboration with Data Analysts develop and use dashboards, analyze usage patterns to create customer insights that leads to improved/new features.
Conducting market and competitor research to stay up to date on the latest trends and developments.
Lead the delivery of the pricing strategy.
Typical skills and responsibilities of a Project Manager
Skills:
Maintaining project documentation.
The ability to work under pressure and manage multiple projects at once.
Able to win people over and influence them / build good relationships, whilst also steering people to get things done.
Excellent communication and interpersonal skills, with the ability to build and maintain client relationships.
Strong problem-solving skills and the ability to make quick decisions.
Consistent project management methods.
Proficient in Microsoft Office 365, Google Workspace (G Suite), project management software, and tools such as Jira
Responsibilities:
Providing authentic leadership and drive in the initiation, definition and execution of projects.
Identify and mitigate project risks, ensuring smooth project execution.
Utilize both agile and waterfall methodologies to lead projects effectively
Create comprehensive project documentation and effectively manage project scope and budgets.
Manage and oversee design and development projects, ensuring successful delivery from start to finish.
Provide expert advice on project management standards, processes, and procedures.
Manage full project lifecycle of medium to large technical projects, with high business and stakeholder engagement.
Working with stakeholders to plan and design the project, pro-actively monitoring its overall progress with status reports, and initiating corrective action as appropriate.
Most In-Demand Certifications in Management
Obtaining certifications is not mandatory for individuals pursuing careers as project managers or product managers. However, having certifications can provide a competitive advantage when applying for jobs, and in some cases, they may even be required. Project management certifications are generally more prevalent compared to product management certifications.
The following certifications are often pursued by project managers:
Project Management Professional (PMP)
Certified Associate in Project Management (CAPM)
Certified ScrumMaster (CSM)
Professional Scrum Master (PSM I)
On the other hand, individuals in the role of product manager may seek the following certs:
Product School – Product Manager Certificate
Pragmatic Institute – Certified Product Manager
AIPMM Certified Product Manager Credential
What is the right role for your company?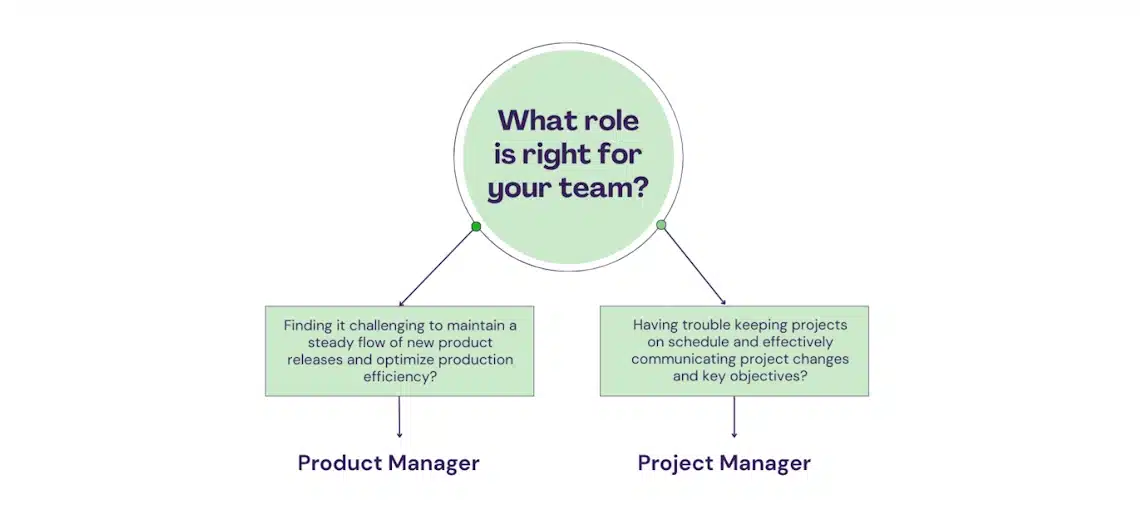 If you're uncertain about who to hire, here are some key questions you should ask:
Do your team find it challenging to maintain a steady flow of new product releases and optimize production efficiency? – A product manager can strategize new product ideas and coordinate with production and operations teams to ensure deadlines are met.
Are you having trouble keeping projects on schedule and effectively communicating project changes and key objectives? – A project manager can oversee deliverables and allocate resources while keeping your team in the know about project plan changes.
Frequently Asked Questions
Can the same person perform both Product Management and Project Management duties?
Who usually reports to whom in a company's hierarchy?
If you are still having trouble deciding, feel free to contact us for assistance!
Tags: coordination, development, implementation, leadership, manager.