IT industry and Developers' Lives in Kharkiv, Ukraine: Impact of the War
Discover insights into the dynamic IT sector in Kharkiv and get a sneak peek into the day-to-day life of developers. Experience the tech landscape in Eastern Europe's IT hub.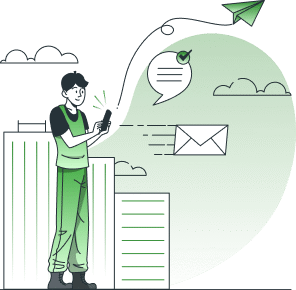 Join 2000+ tech leaders
A digest from our CEO on technology, talent and hard truth. Get it straight to your inbox every two weeks.
No SPAM. Unsubscribe anytime.
With the outbreak of full-scale war and the evacuation of IT companies, Kharkiv has lost a significant part of its tech community. How bad is it, and when and how will the IT industry in Kharkiv be restored?
We tried to find out by talking to representatives of the Kharkiv IT cluster, companies with offices in the city, and economist Roman Sheremeta.
A few statistics
Before the full-scale invasion, Kharkiv had one of the largest IT communities (in particular, Ruby and RoR) in Ukraine. According to our city ranking, around 16% Ukrainian IT professionals lived in the region.
However, with the outbreak of the great war, about 87% of IT professionals left Kharkiv. Given the ongoing shelling of the city by the Russians, it can be assumed that not many have returned to their homes.
At least 15 tech companies have permanently closed their offices in Kharkiv. Other companies have closed their offices temporarily and are waiting for the situation to stabilize.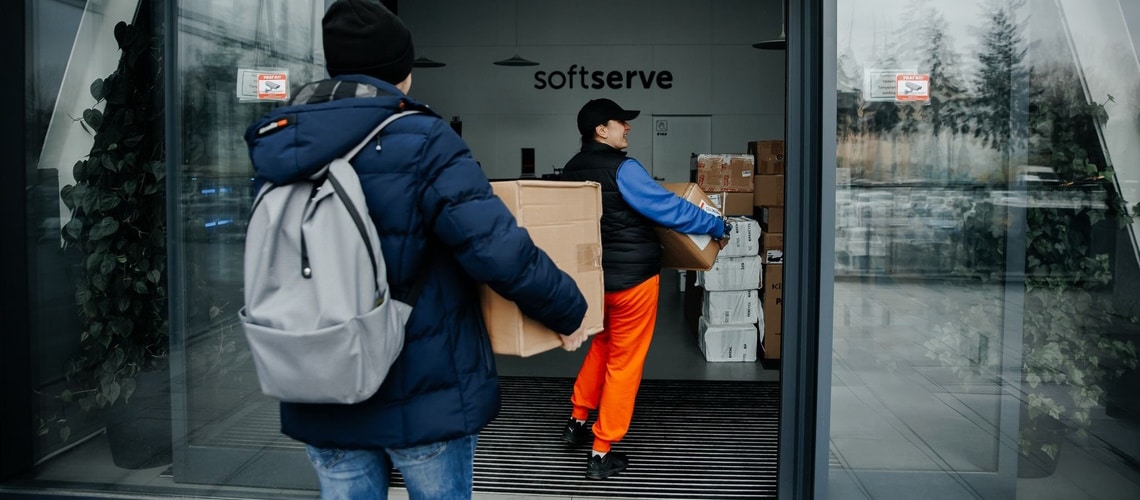 The Kharkiv IT community is scattered across Ukraine and Europe, but its self-identification has been preserved
We asked Kharkiv IT Cluster to tell us about the situation in the region.
According to the organization, borders no longer exist for them, as members from all over the world join the cluster.
"Despite the war, Kharkiv remains a top IT location, because the IT community is constantly growing and continues to identify with Kharkiv even at a great distance – in different cities of Ukraine and the EU. The cluster currently encompasses more than 200 organizations, and more than 50 new members joined during the war. Every week we receive new applications from Kharkiv-based IT companies located all over the world."
According to the cluster's statistics, there were more than 50,000 IT professionals and more than 500 IT companies in Kharkiv by February 24, 2022.
"According to our survey, 82% of companies with offices in Kharkiv have employees who stayed in the city. Most of the IT businesses were evacuated, which ensured a quick resumption of work."
According to a study conducted by Kharkiv IT Cluster in cooperation with the IT Ukraine Association, 95% of Ukrainian companies have maintained the pre-war level of orders. The same applies to Kharkiv businesses.
"The hiring process has been reduced, there are fewer new contracts, but at least they have kept what they had. IT exporters have lost almost nothing, but companies operating in the Ukrainian market are only now starting to resume work. But we see positive changes here as well, as our 'product' and digital marketing members have not only resumed their work processes but are also helping other Ukrainian businesses get back on their feet: creating advertising campaigns or changing software from Russian to Ukrainian (mostly Kharkiv-based)."
The Kharkiv IT Cluster notes that it is critically important to preserve the opportunity for Kharkiv IT professionals to pay taxes to the Kharkiv region. Less than 4% of Kharkiv software developers changed their place of registration during the war.
"This is fully understood in most regions of Ukraine. We are working on establishing partnerships with various local governments to help Kharkiv specialists who have moved to safer regions."
The cluster expects the next wave of Kharkiv IT professionals migrating closer to September, when they will need to make decisions regarding the education of their children and infrastructure for winter living.
The Kharkiv cluster believes that the development of IT in the region "has not stopped, but has been decentralized."
"The number of IT experts in Kharkiv is almost equal to the number of software engineers in a European country such as Latvia. Although the Kharkiv IT community and its people are now scattered across Ukraine and Europe, its self-identification has been preserved. This city has its own peculiarity: it doesn't care where you were born. If you fall in love with Kharkiv, this love will never let you go."
Do companies plan to return to Kharkiv?
We also talked to several software development companies with offices in Kharkiv about how the war has affected them directly and how they see the future of the Kharkiv IT community.
AgileEngine
Kharkiv is the birthplace of AgileEngine, and it was here that our first development team started working. Therefore, in the future, we plan to resume work in the R&D center, provided that the city is safe. Fortunately, the building itself is intact, although there were explosions near it and the situation can change every day.
Since the beginning of the full-scale invasion, six specialists have remained in the city and continued to work remotely. We respect their choice, keep in touch with them on a regular basis, and provide them with stable compensation. The rest of the Kharkiv-based AE employees and their families have moved to safer places in Ukraine and Europe. We all keep up the pace and work of before the war.
We think about the future of Kharkiv IT in a positive way. We believe in its quick recovery and further development after the victory.
P2H
We made every effort to move our dev team to safe parts of the country or abroad. Most of the team left the city, except for those who were prevented from leaving by personal circumstances. We decided to rent a hotel in the Lviv region, where our colleagues could stay and continue to work. The company still rents some of the rooms even now. We have also opened coworking spaces in Lviv and Vinnytsia, where some of our P2H specialists work.
Currently, our Kharkiv office is closed to colleagues. However, we did not give up the premises, because we believe in the future victory of Ukraine and the return of the company's core team to their hometown (more than 50% of our team mates are Kharkiv residents).
All the office furniture and equipment remain in the premises, which is under guard. From time to time, we reopen the office for a few hours, as we want to be fully operational when we return home.
We are confident that with the end of the war, Ukraine and the IT industry will have great opportunities. Kharkiv's tech community has always been one of the most powerful in the country, so we are confident that we will soon start rebuilding the country together.
KitRUM
Our Kharkiv office is holding up and serving as a temporary shelter for people who have lost their homes. Currently, the office building itself houses a volunteer headquarters, and our ground floor is being used as temporary housing for those who need it. Our office has sofas, a kitchen, coffee, tea, showers, and plenty of space. People who are waiting for evacuation buses or who need temporary shelter often stay there. Our building has a solid basement, so it is safe and comfortable there.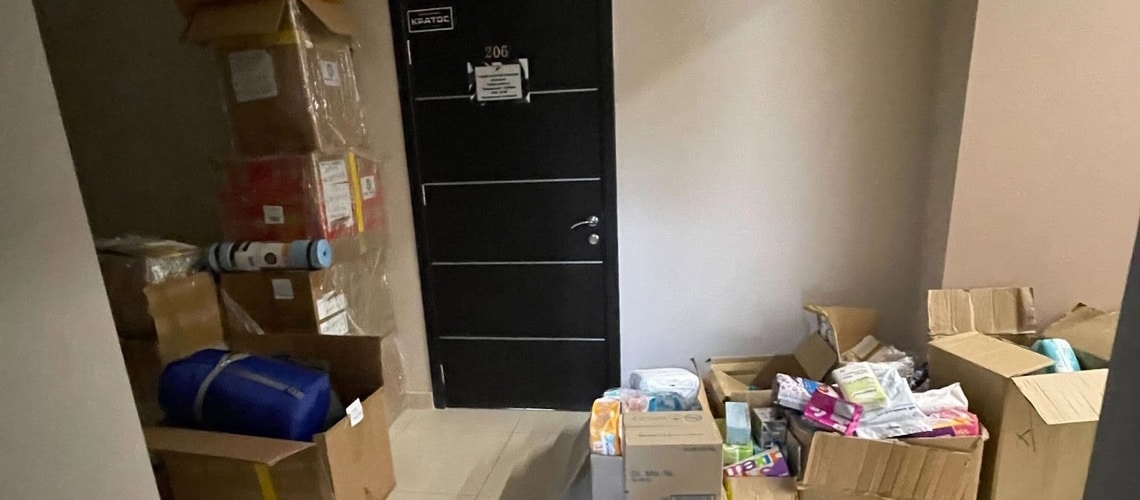 Volunteer headquarters in the KitRUM's office
The war hasn't really affected our work. We haven't stopped for a day; we just took a few hours for relocation and then got back to work. Although our CEO Vlad Kitaynik said that we have to take two or three days off if we didn't have the strength or opportunity to continue, everyone worked. 🙂
All our employees stayed with us and no one was laid off. We have people not only in Ukraine, but also in Poland, Kazakhstan, Kyrgyzstan, Georgia, Moldova, and Mexico. Some of our non-Ukrainian team members offered their homes to colleagues who needed a temporary home and several colleagues accepted the offer.
As for the future of Kharkiv IT, we think that we, together with our colleagues from other companies, will be able to return to pre-war levels in just 3-4 years after the end of the war.
Techstack
Once most of our colleagues were in safe places, we focused on setting up remote processes and building a remote culture. It is important for us to preserve the atmosphere of the Kharkiv office. Currently, 72% of the team is located in different parts of Ukraine, and the rest are in the nearest European countries.
The war has united us and motivated us to work harder than ever for the sake of our common future. Throughout the entire period, we have not had a single delay in releases or broken any commitments to our partners – people who evacuated earlier took responsibility for the tasks of their colleagues and everyone backed each other up. This is an incredible result.
Today, we are most proud of the fact that not a single specialist has lost their job and not a single client has left Techstack. Over the past quarter, we have started to actively grow and increase our number of partners. We are currently working on opening offices in western Ukraine and Poland to provide comfortable and safe places for our team to work.
Despite the fact that our head office was damaged during the shelling of the center of Kharkiv, we will definitely return to it after the victory. Now we are doing everything possible to ensure that our city remains the leading IT hub in the country: we pay taxes, cooperate with the local IT cluster, universities, and courses, and launch internship programs to develop aspiring professionals and for training those who have lost their jobs in the QA Manual Engineer profession.
With such cohesion and support, we are confident that Kharkiv will survive, as will our entire country. Glory to the Armed Forces! Together we will win.
SoftServe
In Kharkiv, SoftServe has two offices (on Sumska Street and Poltavsky Shlyakh Street) that were active before the war but have now temporarily suspended their operations. In total, we had more than 1200 employees in Kharkiv. We advised them to leave the city because of the danger, and most of them did so, moving mainly to neighboring Poltava and Dnipro, as well as to other Ukrainian cities and abroad.
Our offices in Kharkiv have maintained their functionality to date, with security guards staying there to keep an eye on the buildings and even to take care of the flowers. They also helped with the evacuation of employees to safer regions at the beginning of the war, unloading humanitarian aid that the company ordered to the city and transporting equipment and other items to western locations.
We are confident that the time will come when we will be able to return to the city and start contributing to its recovery.
When and how will Kharkiv IT be restored?
We asked Roman Sheremeta, a Ukrainian economist and head of the American University of Kyiv, about this.
In his opinion, the main question is what policy the state will need to pursue to build and develop the eastern regions, as they have suffered the most destruction of infrastructure and outflow of human capital:
"There is an imbalance because a large number of Ukrainians have moved from the east to the west of the country. This imbalance will create difficulties in developing the east of Ukraine. For example, a typical Ruby developer who earns a good salary now lives in Lviv instead of living in Kharkiv. We will need to find some mechanisms to make sure that part of the additional gross product he creates for Lviv goes to the development of Kharkiv. We are talking about taxes and investments. We will need to look for a mechanism to balance those people who moved from east to west – to work out how we can use them to help develop the eastern part of Ukraine."
Sheremeta believes that the Ukrainian government will need to create a balanced policy on the return of IT specialists to the eastern regions.
"It will need to look for appropriate incentives and help companies, perhaps by giving them subsidies, so that they can hire these tech people back. But I think this is a prospect for many years in the future. Unfortunately, if people have hopes that the situation will change in a year or two, I can't see it happening. We will need several years just to restore the basic elements of the infrastructure. If we are talking about the full development, it will take a decade, maybe more."
Final thoughts
The war has had a negative impact on the development of IT in Kharkiv, primarily due to the migration of specialists and businesses to other regions of the country and abroad. About 87% of IT professionals (including software developers, DevOps experts, UX/UI specialists, QA engineers, product managers, etc) were forced to leave the city and 15 IT companies closed their offices there. However, if the community remains united and we properly organize the remote work of specialists and businesses while retaining taxes and investments in the Kharkiv region, it will be possible to restore both the IT community and its economy after the war.
This article was originally published in the Ukrainian language by Ivanna Tkachuk on DOU.
Tags: conflict, developers, impact, industry, it.