Meet the Python Core Developers from Ukraine
Python Core Team
The Python core dev team is a group of software engineers who manage the development of the Python programming language. They are responsible for maintaining the CPython interpreter, developing the language and standard libraries, and releasing new versions.
The team is made up of active members of the Python community, including Guido van Rossum, the original creator of Python, and other members from the PSF (Python Software Foundation). It's been 184 people on the list since December 25, 1989.
The team meets regularly to discuss and coordinate development plans, and also works with the broader Python community to ensure that the language remains open and accessible to everyone.
One… Two… Three Ukrainian Python Core Developers
Many Ukrainian programmers are involved in various open source projects. Three of them even contribute to the core Python project(s). Let's take a closer look at these guys.
1. Andrew Svetlov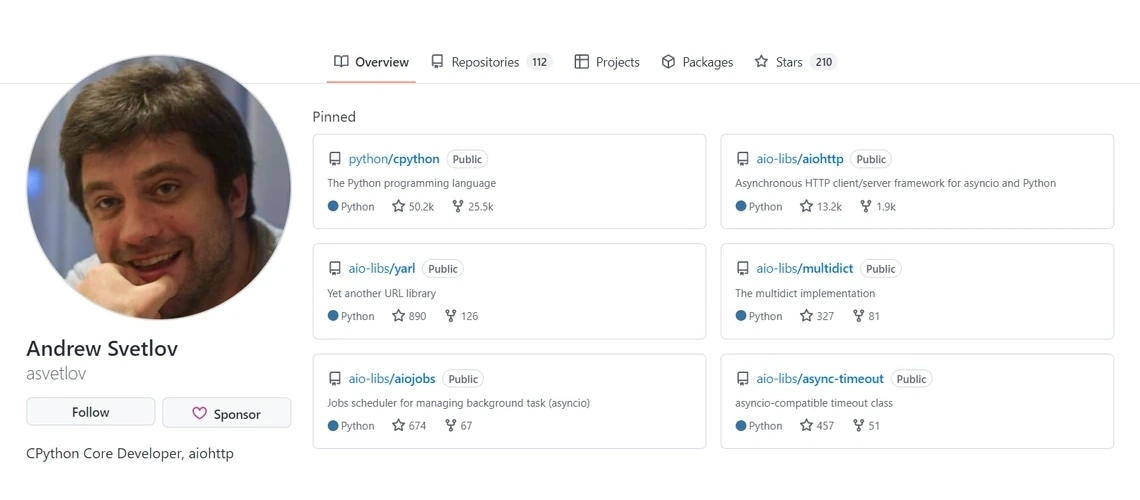 Andrew Svetlov became a core Python programmer on March 13, 2012. He is a well-known Ukrainian dev who has extensive experience not only in Python, but also in Git and Django Framework.
He successfully worked as a software engineer at the company Neu.ro and paid a lot of attention to the areas of machine and deep learning. He developed various predictive data models for decision-making in science and business, and many of the team's cutting-edge developments and ideas are his copyright.
Andrew was also involved in developing game products, including games in the genre of MMO RPG survival. At the moment, he works full-time at the Rolos company, actively volunteers and donates to the Ukrainian Armed Forces.
2. Serhiy Storchaka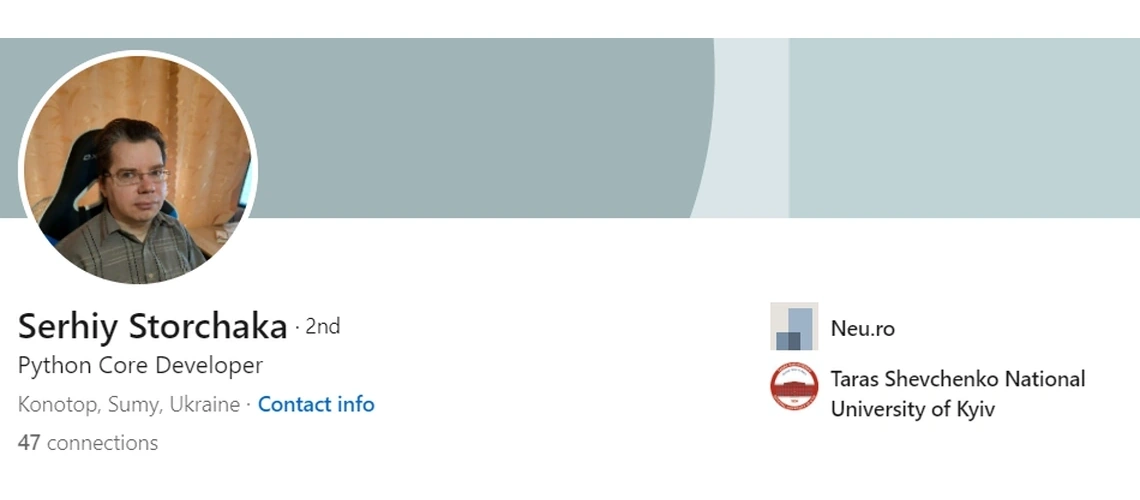 Serhiy Storchaka got the role of core Py programmer on 2012-12-26. The future software engineer studied at the Taras Shevchenko National University of Kyiv and was a capable student – he won professional student olympiads and IT competitions, attended local programming clubs.
He is currently a leading programmer at the Neuro company, deeply engaged in developing neural network architecture using the most modern and powerful Python frameworks. He has come a long way as a developer – he started in the early 2000s, when the IT industry in Ukraine was making the first steps, and nowadays, he is one of the most qualified Python developers in Ukraine.
One of the top contributors to coding language Python lives in Ukraine. Fellow developers are helping his family escape the war and communicating via Google Translate. – Business Insider
Serhiy is a great patriot of Ukraine and does everything possible for the victory against Russia and prosperity of his country.
3. Ivan Levkivskyi
Ivan Levkivskyi achieved the status of a core Python dev on December 6, 2017. He is a talented software engineer, a young scientist with high research potential and a Ph.D. degree.
He is extremely knowledgeable in vast scientific areas such as quantum physics, programming, genetic engineering, mathematical analysis, Big Data and other research fields.
A scientist's academic level encourages Ivan to be an outstanding Python developer. By combining his knowledge of IT and artificial intelligence with academic work, he constantly publishes scientific papers in the popular Scopus and Web of Science databases.
How to Become a Python Core Developer
Learn Python Constanly: Make sure you have a deep understanding of the language, its syntax, and the popular libraries.
Get Involved in the Python Community: Participate in forums, attend local meetups, and volunteer to help out with local conferences.
Contribute to Open Source Projects: Start with small bug fixes and then gradually move on to larger projects such as refactoring code and adding new features.
Focus on a Specific Area: Choose a specific area of Python to focus on, such as web development, data science, or machine learning.
Collaborate with the PCD Team: Submit patches and bug reports, and eventually become a part of the core development team.
Echo offers the services of Python developers and data scientists with 3+ years of experience who ensure maintainable code, on-time delivery, and high productivity. Our flexible services stretch from filling specific Python skill gaps to providing self-managed development teams.
Tagged as
community, conference, core, developers, meetup