16 Less-Known Travel and Tourism Startups Around the World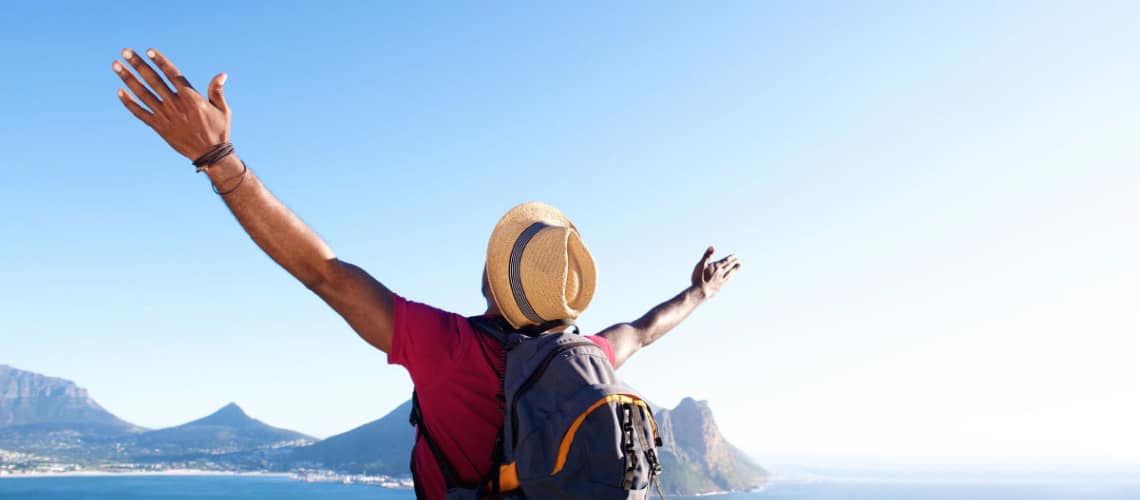 Explore the unconventional with these 16 unique travel startups globally. Discover new places, experiences, and innovative solutions reinventing the tourism industry. Start your journey here!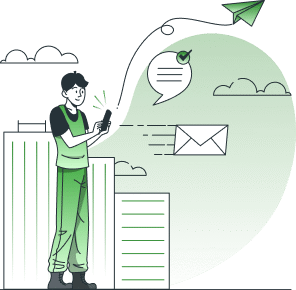 Join 2000+ tech leaders
A digest from our CEO on technology, talent and hard truth. Get it straight to your inbox every two weeks.
No SPAM. Unsubscribe anytime.
Travelers are ready to get out and explore, according to a new report by the World Travel & Tourism Council. Venture capitalists recognize the opportunity – over the last ten years, they have fueled travel startups with $19 billion in funding.
We choose top disrupting travel and tourism startups to provide aspiring entrepreneurs with insights on what it takes to hit it big in the industry. Rather than including top-tier players like Tripadvisor 🌴, we aim to explore some lesser-known startup travel companies which are gaining market traction lately.
Check out our list of innovative tourism startups that make big waves now.
1. Touch Stay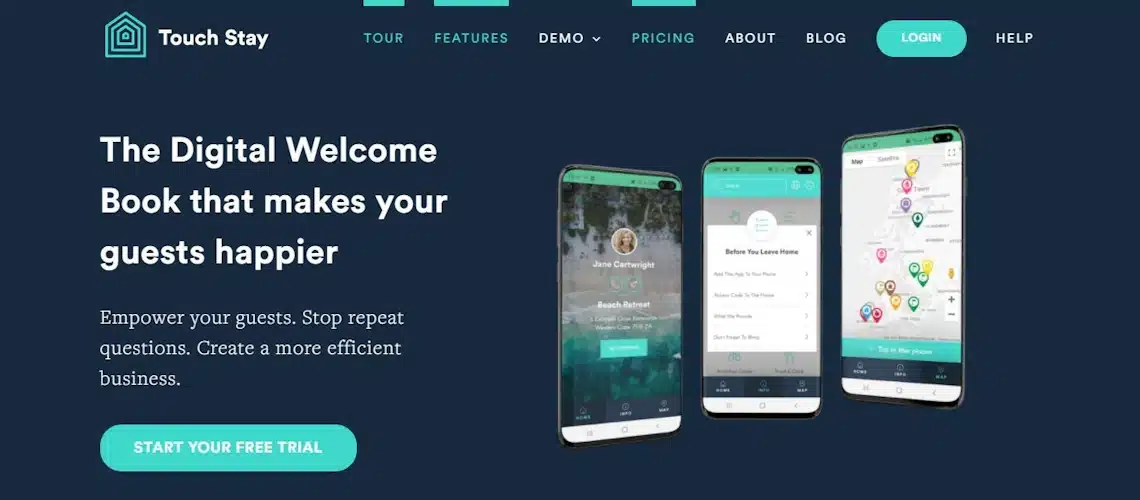 Whether you have 5 properties or 500, Touch Stay digital guidebooks help you easily create and share property information to deliver the best guest experience. From practical accommodation information and inspirational content, to automated (and free!) SMS and email messaging, Touch Stay guidebooks give guests everything they need to know before, during and after their stay. Spend less time answering guest questions and focus on growing your short term rental business with Touch Stay.
Touch Stay was founded by Andy McNulty and Joe Jones – two serial travellers who kept on encountering the same issue over and over again: an absence of clear communication with their rental accommodation hosts.
2. Beyond Pricing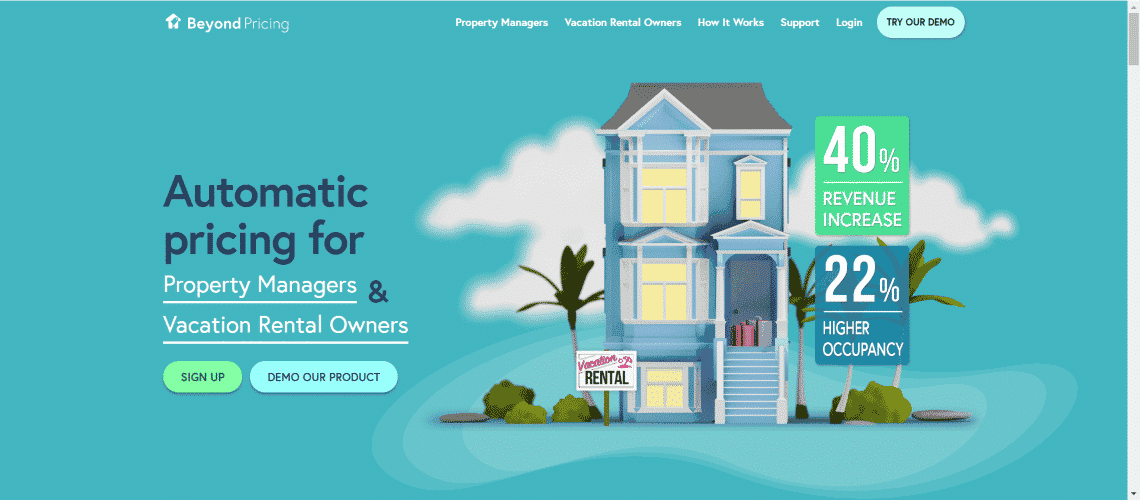 Beyond Pricing is a revenue management solution for short-term rental managers and owners to get, grow, and keep revenue, established by Ian McHenry and David Kelso in San Francisco in 2013.
The startup provides vacation rental owners with an automated AI-based pricing solution. The service analyzes market data in real-time and adjusts pricing recommendations to maximize revenue. Beyond Pricing claims their solution to increase revenue by up to 40%.
The company has raised $3.5 million in investments. They were funded by Plug and Play, Amicus Capital, Resolute Ventures, and Bullpen Capital, among the others.
Beyond Pricing was included in Phocuswright's 25 hottest startups list for 2019.
The startup was covered by The Wall Street Journal, Time, CNN, Forbes, Bloomberg Businessweek, Mashable.
3. Coindrum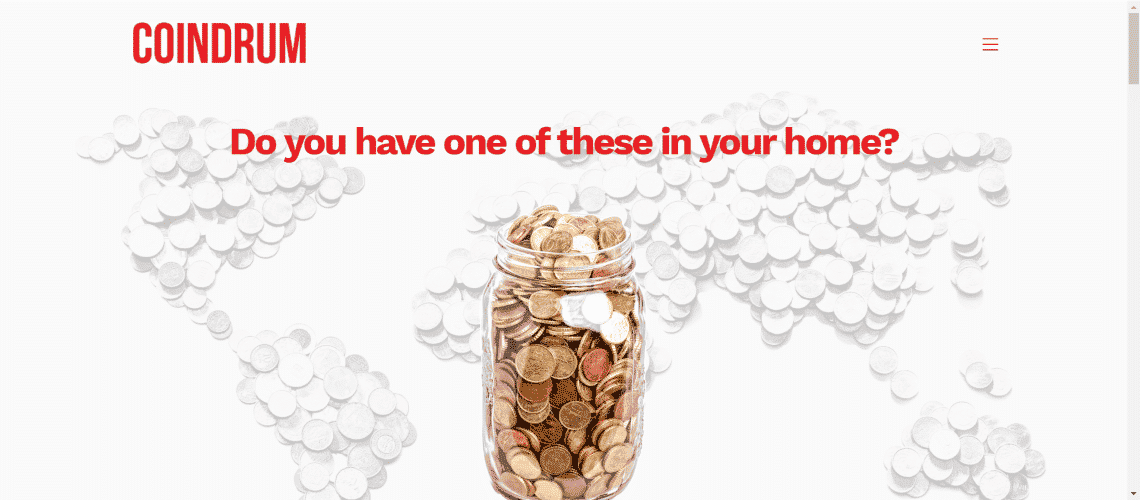 Coindrum is converting foreign coins into duty-free vouchers.
A self-service machines provider founded by Lukas Decker in Dublin.
The startup offers a neat solution for those travelers who find themselves left with pockets full of basically useless coins after leaving the currency zone. They are offered to deposit foreign change into one of the Coindrum machines placed inside the airport area. In exchange, a tourist gets a voucher to spend in a duty-free zone. This also benefits duty-free retailers by making the non-spenders spend.
Coindrum received $2 million in funding. Among their investors were co-founders of Ryanair and Hostelworld.
Coindrum won the 2018 top travel startups award.
Last year, the startup was selected for the Retailtech Hub program in Munich to provide their machines to Germany's key retailers.
4. Crowdvision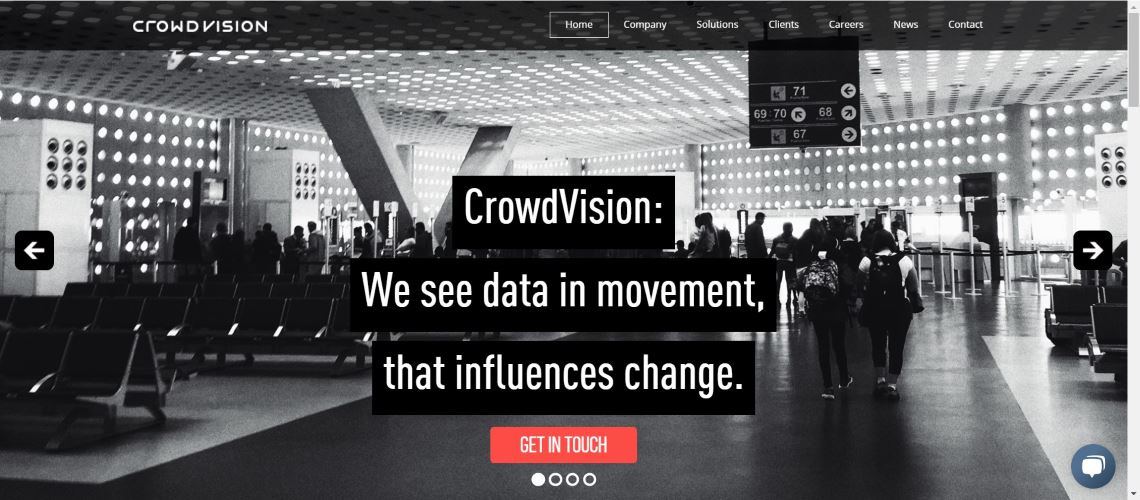 CrowdVision is a leading automated pedestrian analytics and insights company.
A UK-based early-stage company founded by Fiona Strens and Anders Johansson in 2011.
Crowdvision provides an automated real-time computer vision technology that analyzes crowds at the airport using video cameras and machine learning. The solution allows to prevent bottlenecks and achieve smooth passenger flow throughout the terminal.
In 2018, Crowdvision received an investment of an undisclosed amount from Amadeus Ventures. Prior to this, the startup was backed by Oaktree Capital, Plug and Play Tech Center, Angel CoFund, and Beacon Capital.
Among the airports using Crowdvision technology are London Heathrow, London City, Stansted and Jersey airports, as well as Tokyo's Narita and Chicago O'Hare airports.
5. Culture Trip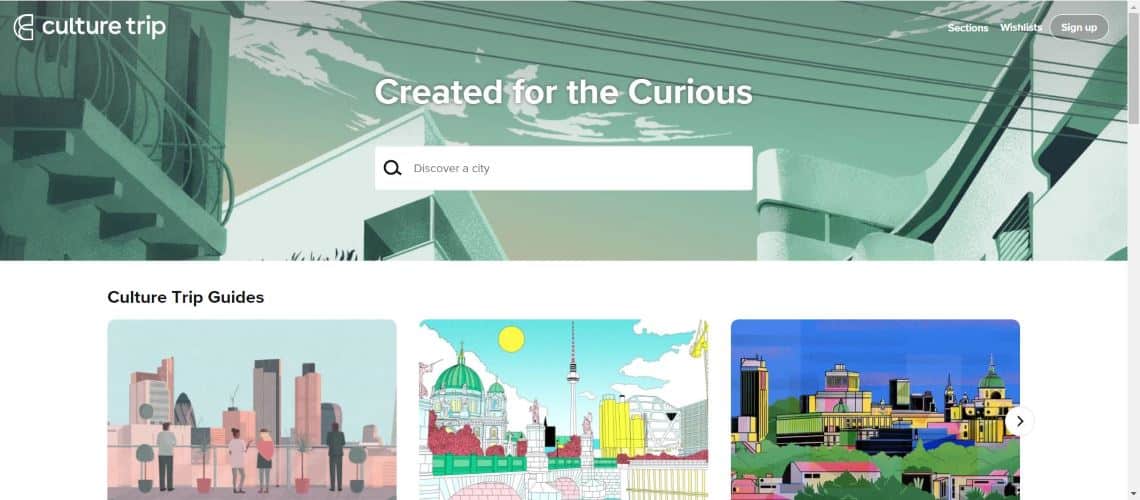 Culture Trip is your trusted shortcut to booking travel that's good and makes you feel good.
One of the hottest travel startups geared towards those who are looking to dive deep into the local culture. The company was founded in 2011 by Kris Naudts in London. In subsequent years, they expanded their presence to New York and Tel Aviv and established a network of over 300 local authors across the globe.
Culture Trip is a hybrid of a magazine and a travel platform that delivers exclusive local content, recommendations, and overviews on culture and art. They aim to inspire travelers to explore the world through local cultures and creativity.
In 2016, the startup secured $20 million in funding from PPF Group. A further investment of $80 million boosted the company's growth in 2018.
Forbes named Culture Trip as one of the fastest-growing startups.
In 2018, they were awarded by Red Herring Top 100 Europe, British Media Awards, the Sunday Times Fast Track Disrupters to Watch awards.
This year, Culture Trip was named among the hottest startup travel companies by the Europas Awards.
6. Doerz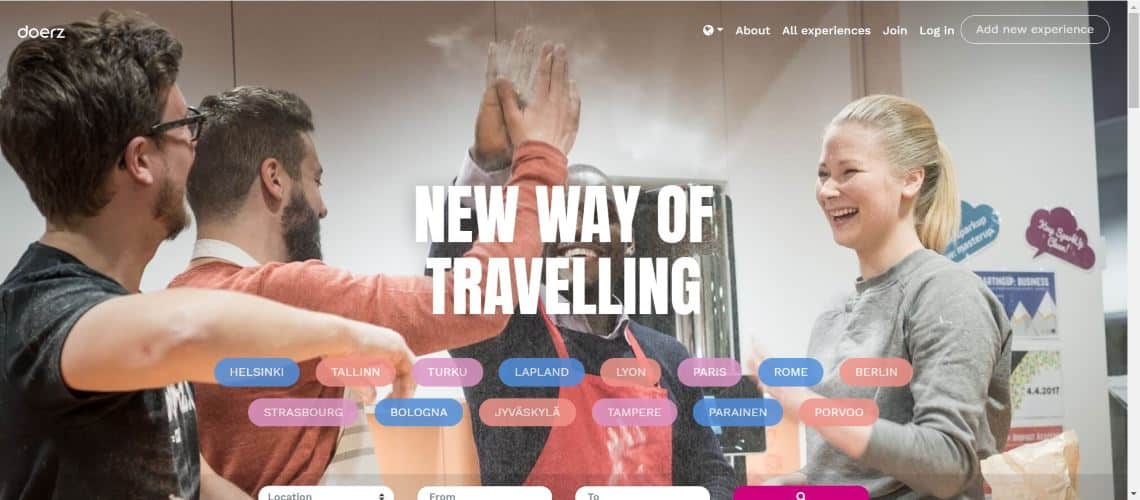 Doerz is a real-life experience with the city locals.
The company is in business since 2016. Doerz was launched by Tomi M. Virtanen in Turku, Finland.
The startup was born from the idea of exploring the foreign city from the inside – by doing stuff and going places with the locals. Doerz is a social platform where verified local experience providers offer to share their daily real-life activities. You can find yourself ice-fishing on a forest lake, cooking pea soup in a Finnish student dorm, composing a song with a local musician – the list goes on.
Currently, their ambassadors' network covers 14 cities in Finland, Estonia, Germany, France, and Italy.
Doerz has raised €127.448 on Seedrs.
The startup is in partnership with Finnair and Viking Line.
7. Evaneos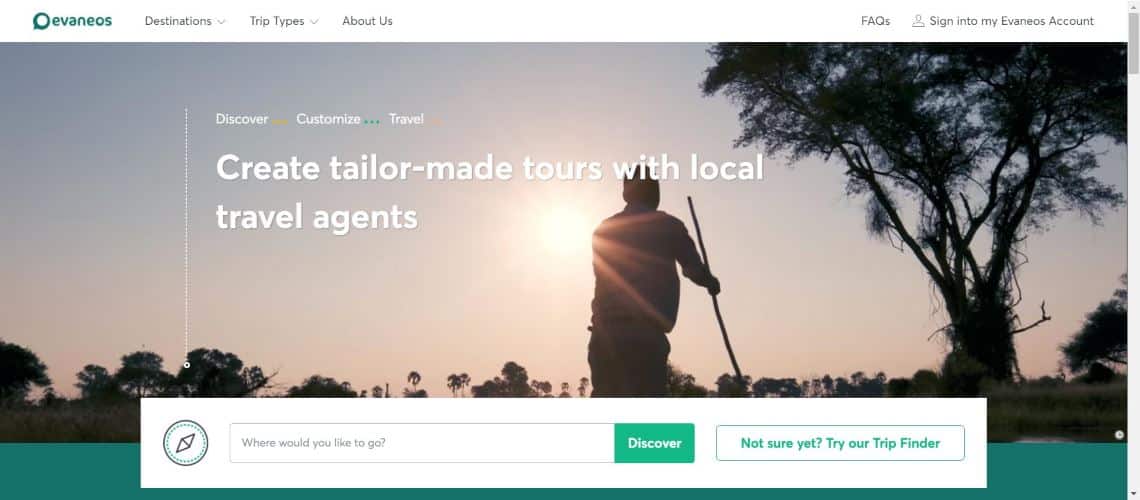 Evaneos is the leading online marketplace for tailor-made tours. Plan your trip with the expertise of a local travel agent in the destination.
Evaneos is a French tours and travels startup founded in 2009 by Eric La Bonnardière and Yvan Wibaux.
The startup has created the world's first online platform aimed to connect tourists directly with local travel agents. Evaneos platform provides access to 1,300 local agencies and features 8,000+ ready-made, customizable itineraries to 160 destinations. The startup serves over 30,000 tourists across the globe.
Evaneos has raised about $109 million in funding. Among the investors are Serena Capital and Fonds Ambition Numérique.
Their solution has received positive reviews by National Geographic, Daily Mail, Wanderlust, TechCrunch, The Guardian, and other media.
8. Itinari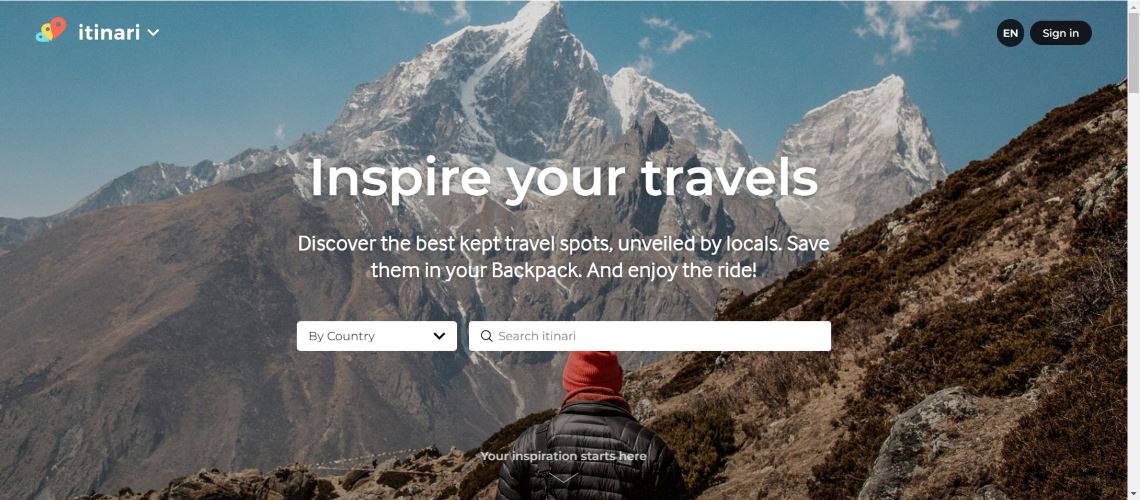 Itinari is helping travelers tread off the beaten track.
A Brussels-based trip startup aimed to help people around the world discover and share some lesser-known local attractions. Italy-born entrepreneur Nicolas Casula founded the company in 2017.
Itinari is a media platform featuring exclusive travel articles that reveal some hidden gems across the globe. The contributors' network covers more than 40 European countries. Here you can also find articles on some niche local activities like horseback riding in Kazakhstan or Parisian pet cemetery exploration.
The startup has raised €830k in funding.
9. Hopper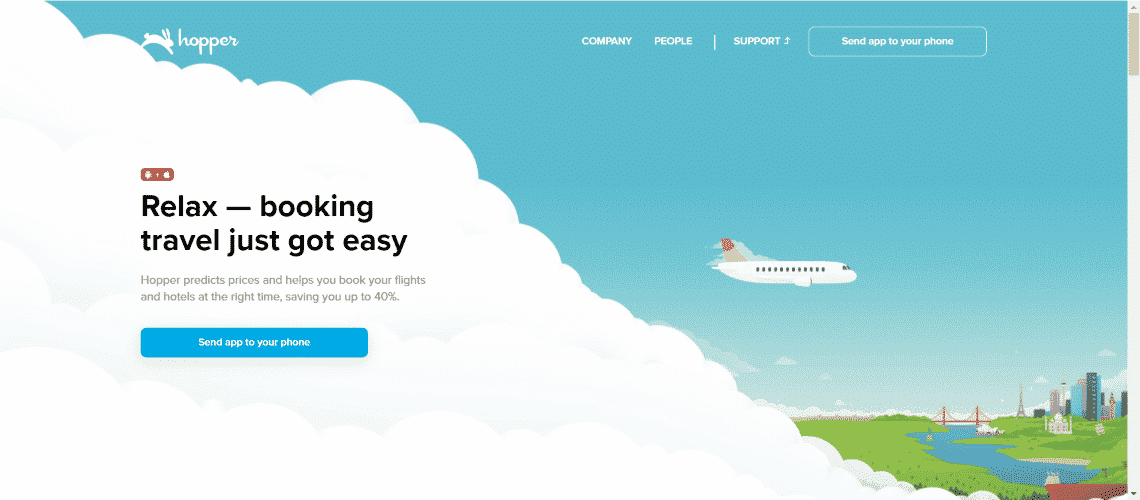 Hopper's innovative technology helps travelers save up to 40% every time they travel.
Take Skyscanner startup idea, add some advanced predictive analytics, and you'll get Hopper. This cheap flights startup was co-founded by former Expedia engineers Frederick Lalonde and Joost Ouwerkerk in Montreal, Canada.
Hopper is a mobile app designed to automate travel-related prises monitoring. Its AI-driven algorithm processes million of prices daily and predicts how prices will change up to a year in advance. The user then gets a suggestion on when they should book a trip or wait, and when there will be the best time to make a purchase.
The startup has raised over $184 million and is valued at $780 million. Among their investors are Citi Ventures, Brightspark, OMERS Ventures, and Accomplice.
10. Grabr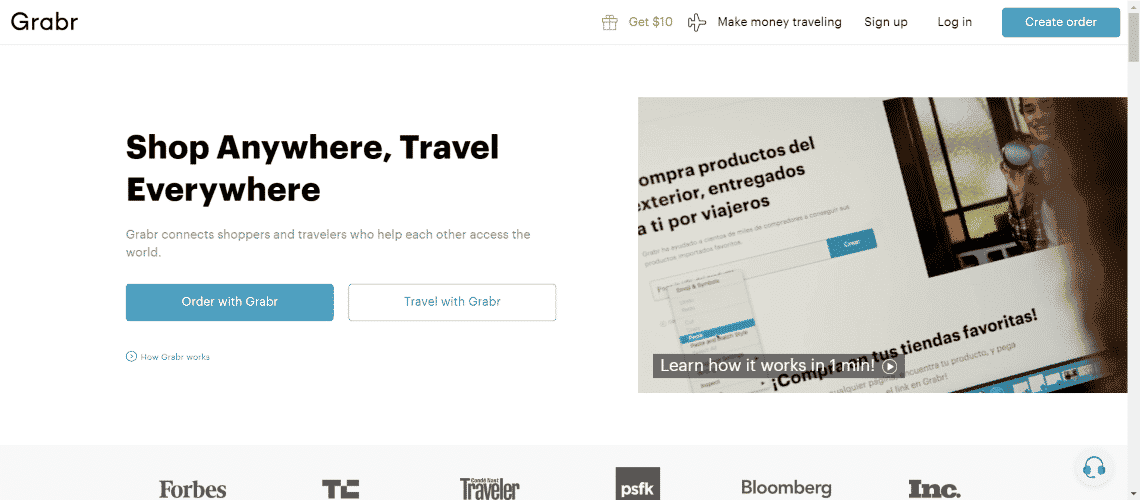 Grabr is a monetize your free luggage space.
A San Francisco-based startup is on the market since 2015. The project was launched by Russian-born spouses Artem Fedyaev and Daria Rebenok.
The startup idea was to create an "Uber for international shopping". As a result, they have developed an international peer-to-peer courier service linking shoppers and travelers.
On Grabr, you can drop a link to the desired item from Amazon or any other online store and get a delivery offer from a traveler heading to your destination. As a tourist, you can pick delivery requests at your destination and earn some money for delivering their items.
In total, Grabr has raised about $14 million. The company was backed by SignalFire, Founders Fund, and Foundation Capital.
The startup was recognized by the EyeforTravel's Startup Awards.
11. LuggageHero
Luggage Hero is a luggage-storage startup co-founded by Jannik Lawaetz and Kristian Loekkegaard in Copenhagen (2016).
LH business model is as simple as can be – book online, then drop your suitcase at the nearest LuggageHero partner store in your destination. Today, their network of luggage storage locations covers 45 cities across the US and Europe, with more cities joining in 2022.
The startup has secured $1.45 million in its 2019 funding round. Their investors include Nordic Eye, Danish Growth Fund, and Innovation Fund Denmark.
LuggageHero was covered by the New York Times, Forbes, Evening Standard, Lonely Planet.
12. Panzly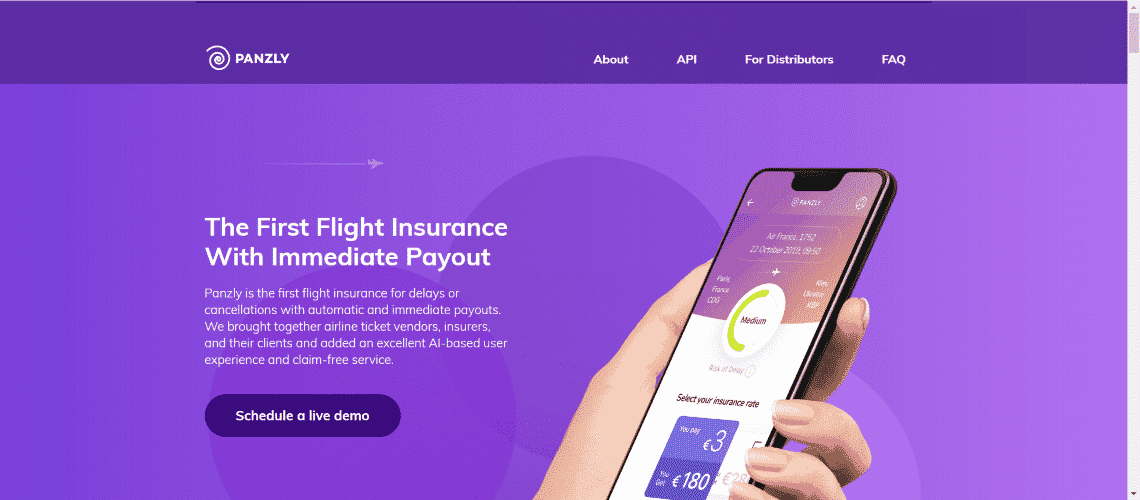 Panzly is the first flight insurance for delays or cancellations with automatic and immediate payouts.
Panzly is a young Ukraine-born travel insurance startup headquartered in London. The project was created by Ukrainian developers Alex Gayduk and Anton Nesterenko in 2018.
Plane cancelation is never fun, but Panzly founders have decided to make it less stressful. They developed the first flight insurance app with an immediate claim-free payout to the passengers whose plane has been canceled. The service triggers compensation automatically in the event of a two-hour delay.
Panzly was featured in the 2019 top innovative travel startups by British Airlines, and 2019 top most promising new travel startups by Insurance post.
They also entered the top 5 Disrupt Launchpad & Awards at 2019 Travel Technology Europe (London).
13. Questo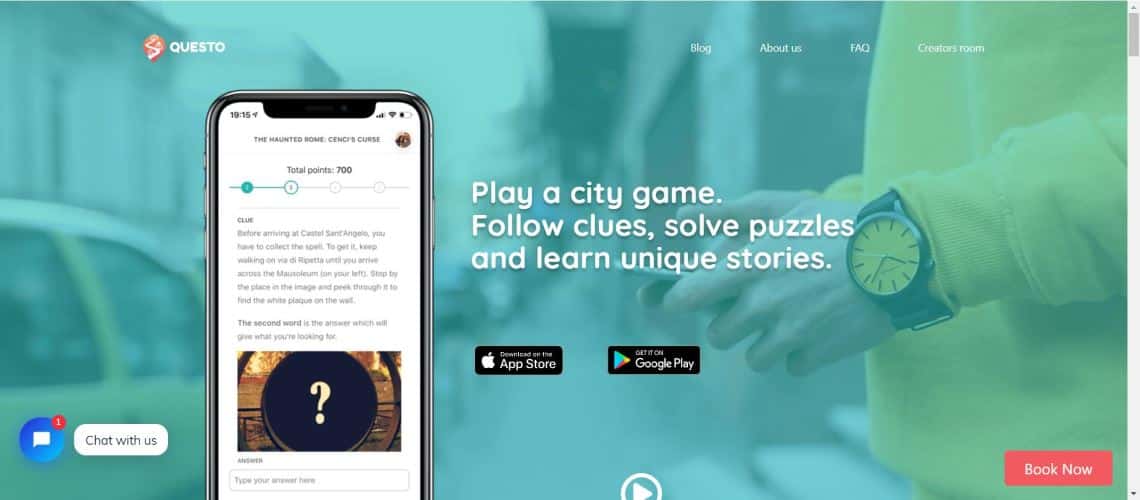 Questo turns city exploration into a game.
A Romanian travel app startup was established by Alex Govoreanu in 2017 in Bucharest.
Questo is an app that makes real-world city exploration even more fun by mixing traveling and casual gaming. It enables tourists to discover new places while solving augmented puzzles, quests and completing story missions. You can choose either outdoor urban quests or indoor quests in the local castles, museums, etc.
The game is available in 40 cities across Europe.
The startup has secured a seed round of funding from investors, bringing its valuation to $1.5 million.
14. Routehappy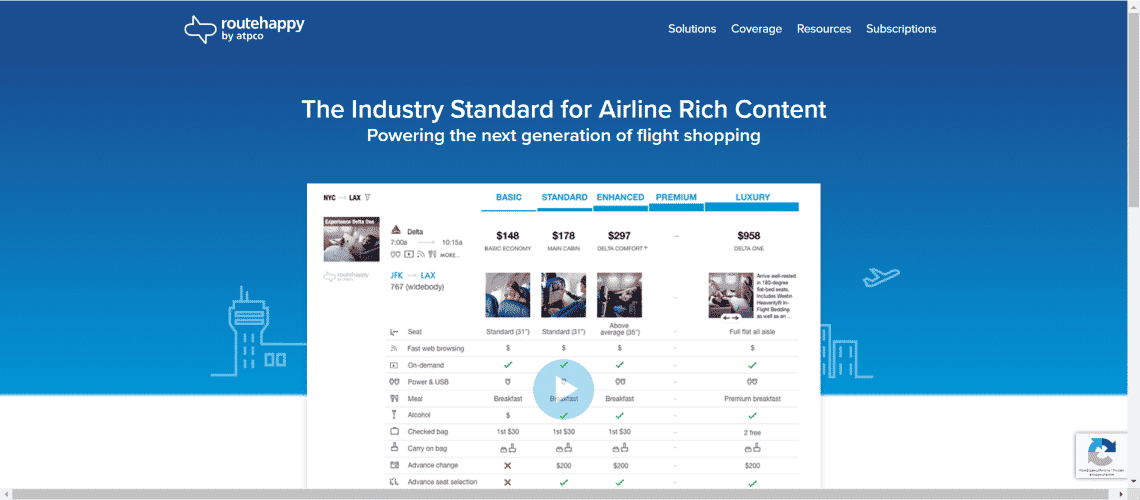 Routehappy finding the comfiest flight.
RH is a NY-based flight booking startup founded by Robert Albert in 2011.
There's more to a good flight than an affordable price and a convenient schedule. Legroom and a reclining seat, Wi-Fi, snacks and drinks, outlet access, and other small things make a big impact on your comfort during a flight.
Routehappy holds an exhaustive dataset of plane types, seat layouts, and other assessments for flights over the world. You can choose the most comfortable option according to your preferences or based on the overall "happiness points".
15. SeeVoov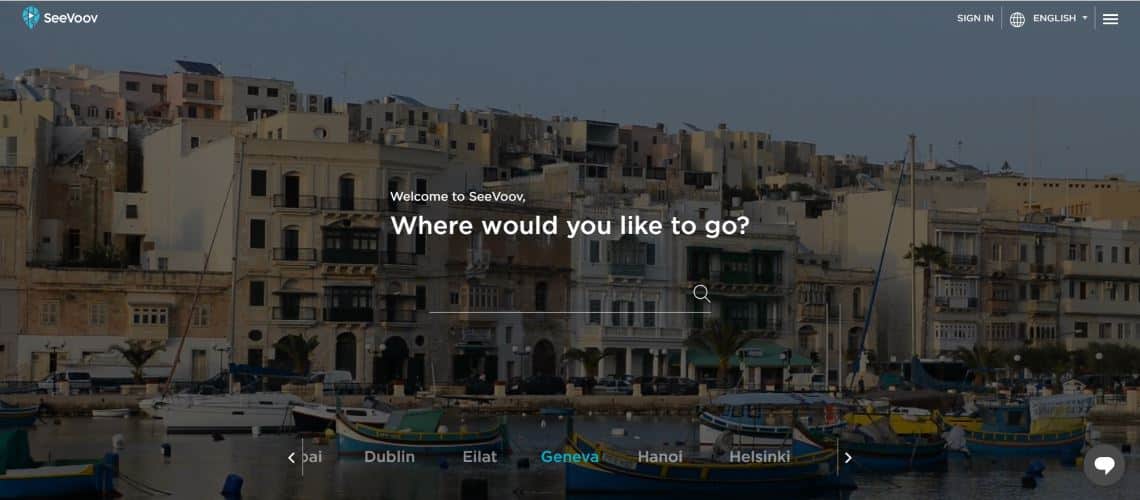 SeeVoov is the first interactive video trip planning platform.
An Israeli travel planning startup co-founded by Asaf Toker and Yosi Golan in 2016.
The startup has raised $400,000 in funding from investors.
In 2019, SeeVoov was among the top 10 travel technology startups for the World Tourism Organization (UNWTO) startup competition.
The company won the ITB China 2019 Tourism Innovation Startup award.
Their partners include Samsung, SmartAir, Israir, Pruvo.
16. TravelPerk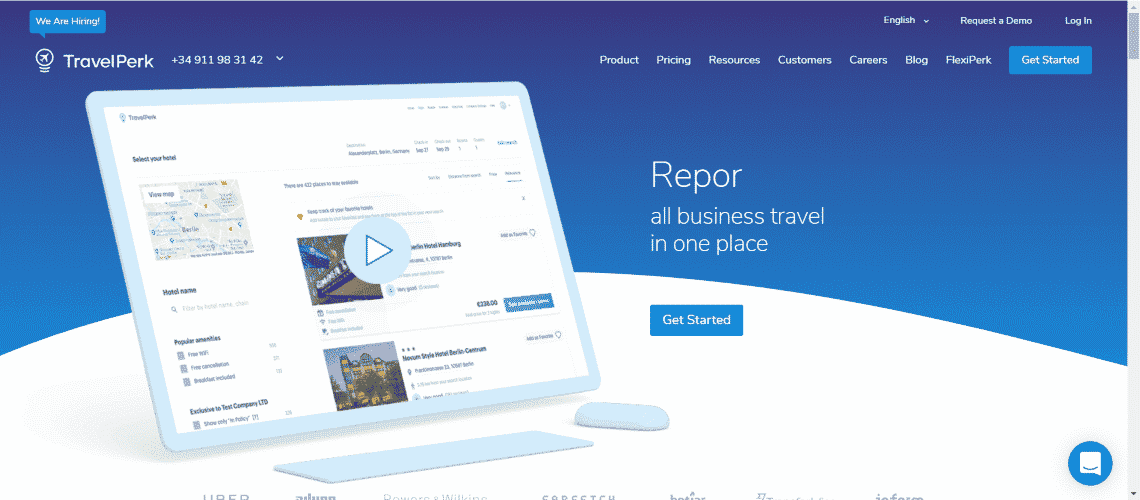 TravelPerk is the next-generation business travel platform pioneering the future of business travel.
An award-winning corporate travel startup designed to handle all the business trip management issues. The company was founded in 2015 by three experienced entrepreneurs – Avi Meir, Ron Levin, and Javier Suarez. They are headquartered in Barcelona.
TravelPerk has delivered a free tool that enables users to book and manage travel fast, within the corporate policy, and under budget.
TravelPerk has gained €65.3 million in funding. The startup is backed by investors from Slack, Trello, Twitter, and Spark Capital.
Among their partners are Lufthansa, Uber, TransferWise, Farfetch, etc.
🔔 Hire top PHP developers in Ukraine.
Conclusion
You may have noticed geographic diversity in our best tourism startups list. These flourishing travel tech startups represent 12 countries across the world. It looks like blurring international boundaries is at the very core of the tourism startups scene.
If you're looking to join the travel startups 🦄 unicorn club with your own project, you may consider going offshore and offloading a part of web or mobile development of your project to remote developers. Contact us with your business-related question and our expert team would be happy to provide you with professional assistance on hiring the best tech talent and setting up a remote team in Ukraine.
Tags: adventure, booking, destinations, experiences, hospitality.