IBM Watson Development Firms in Ukraine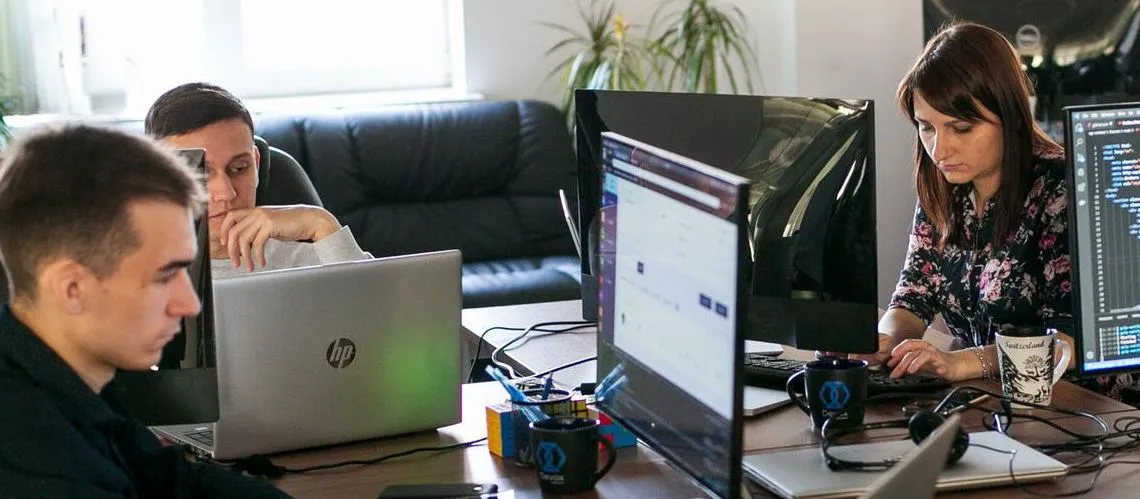 Discover top-notch IBM Watson Development Companies in Ukraine, specialized in integrating artificial intelligence and cognitive computing capabilities into innovative solutions. This curated list presents experienced teams dedicated to harnessing the power of IBM Watson's natural language processing, machine learning, and data analysis features for your business needs. Collaborate with these forward-thinking professionals to revolutionize your industry and stay ahead of the competition.
(i) Related tech terms: IBM Watson Natural Language Processing, Machine Learning, Cognitive Computing, AI, Deep Learning.
Featured Websites
🥇 Looking for the best IBM Watson freelancers? Look no further than Fiverr.com! Our top-rated marketplace features a diverse network of talented professionals who specialize in everything from AI chatbots to speech-to-text transcription. Whether you're launching a new project or need ongoing support, our experienced freelancers are here to help you achieve your goals faster and more cost-effectively. So why wait? Visit Fiverr today and start working smarter—not harder!
How to choose the right firm?
When choosing an IBM Watson development company, look for one that has experience and expertise in the Watson platform, is familiar with your industry and application, and can provide a clear plan and timeline for the project.
Additionally, look for a company that has a proven track record of successful projects, offers competitive pricing, and provides good communication and customer service.
Five questions you should ask IBM Watson developer(s) before the hire
What motivated you to become an IBM Watson developer?
How familiar are you with the IBM Watson platform and its capabilities?
How do you go about ensuring the accuracy and reliability of an IBM Watson application?
What have been some of your biggest successes while developing with IBM Watson?
What challenges have you faced while developing an application with IBM Watson?
👋 A lot of companies to analyse? Let us help you to select the trustful service provider!
Technologies that may replace IBM Watson
Thinking of other choices (alternatives) may be a decent thought:
Google Cloud AI Platform: Google's cloud-based artificial intelligence platform for machine learning, natural language processing and analytics.
Amazon Machine Learning: Amazon's cloud-based machine learning platform for building predictive models.
Microsoft Azure Machine Learning: Microsoft's cloud-based machine learning platform for building predictive models.
Hire Ukrainian IBM Watson Engineers
With highly experienced teams and cost-effective solutions, these development companies are well-positioned to help organizations unlock the full value of Watson technology. With their diverse range of services, ranging from AI-driven solutions to natural language understanding, these companies are well-equipped to help enterprises achieve their goals.
Top locations: Kyiv, Lviv, Kharkiv, Dnipro, Odesa, Zaporizhzhia, Vinnytsia, Khmelnytskyi, Ivano-Frankivsk.
It is difficult to provide an exact rate as it depends on the scope of the project, the complexity of the development, and the amount of resources required. Generally speaking, companies in Ukraine charge between $20 and $50 per hour for IBM Watson development.
Future Trends
The future of IBM Watson is bright with the company continuing to invest heavily in its development.
With advances in natural language processing, deep learning algorithms and increased accessibility, more businesses are expected to adopt this cognitive tool. The Big Blue has already partnered with major companies such as General Motors and H&R Block to implement Watson's unique capabilities for operational efficiency improvement, customer engagement enhancement among others. AI-powered innovation will be critical in shaping business intelligence leading into the intelligent era where IBM Watson plays a significant role considering its value proposition which entrenches decision making based on data-driven insights instead of pure intuition-based choices thereby reducing uncertainty around unknown variables instrumental in driving pattern recognition at rapid speed improving scalability making room for better risk management thus growth acceleration payoff according to experts.