Cryptocurrency Development Firms in Ukraine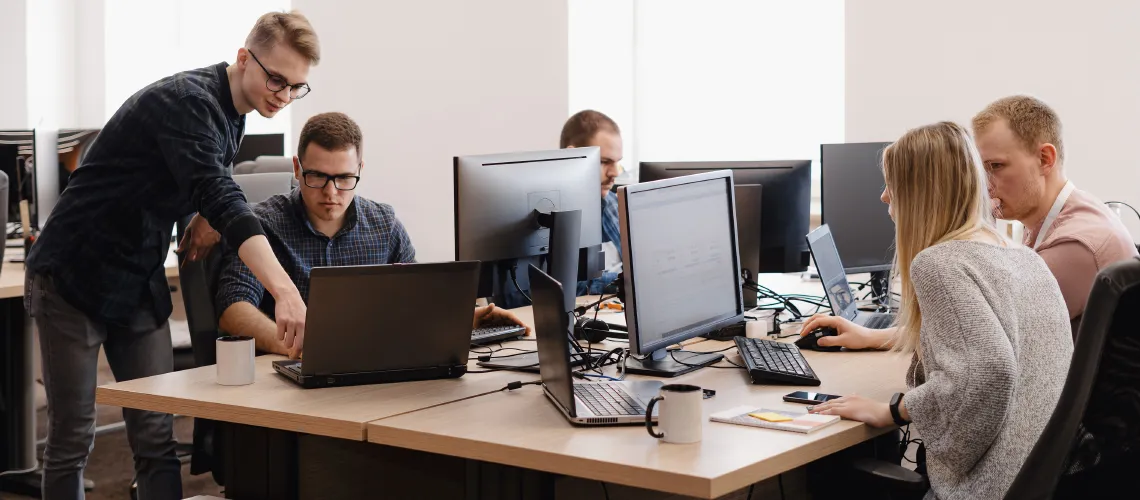 Explore the exciting world of Cryptocurrency Development Companies in Ukraine! Our curated listings feature top-notch businesses specializing in blockchain technology, smart contracts, and decentralized finance application development. Eager to revolutionize traditional industries, these firms have a deep understanding of cutting-edge technologies and are driven by skilled professionals. Discover your ideal partner today to engineer innovative solutions bridging the gap between digital asset management systems and legacy infrastructures.
(i) Related tech terms: Blockchain, Mining, Cold Storage, Encryption, Hash, Public/Private Key, Digital Signature, Satoshi, FOMO.
Featured Websites
🥇 Get ahead in the crypto game with Fiverr! Hire top-rated freelancers to handle all your cryptocurrency needs. From blockchain development to trading advice, find qualified experts on Fiverr.com and get results faster than you ever thought possible. Sign up now and discover a world of freelance talent waiting at your fingertips!
How to choose the right firm?
When selecting a cryptocurrency development company, it is essential to consider factors such as their experience level, past projects, customer reviews, security measures, and cost.
Additionally, it is important to ensure that the company is reliable and trustworthy, and has a good understanding of the blockchain technology and cryptocurrency space.
Typical Projects
Five questions you should ask Cryptocurrency developer(s) before the hire
What experience do you have developing cryptocurrency applications?
How familiar are you with blockchain technology?
What coding languages do you have experience in?
How do you ensure blockchain scalability and performance?
How do you ensure the security of user data and funds?
👋 A lot of companies to analyse? Let us help you to select the trustful service provider!
Technologies that may replace Cryptocurrency
Thinking of other choices (alternatives) may be a decent thought:
Blockchain-as-a-Service (BaaS): A cloud-based service that enables businesses to easily and securely create and manage their own blockchain applications and networks.
Distributed Ledger Technology (DLT): A database technology that allows multiple parties to securely access and update records in a distributed network.
Smart Contracts: Self-executing digital contracts that enable parties to securely exchange assets without the need for a trusted third-party.
Hire Ukrainian Cryptocurrency Engineers
With a highly skilled labor force, competitive rates, and a growing regulatory environment, businesses seeking decentralized solutions can find a reliable partner in Ukrainian cryptocurrency development companies. Furthermore, these companies are well-equipped to handle a wide range of projects, ranging from custom blockchain solutions to fast payments and automated trading.
Top locations: Kyiv, Lviv, Kharkiv, Dnipro, Odesa, Zaporizhzhia, Vinnytsia, Khmelnytskyi, Ivano-Frankivsk.
The typical rates for cryptocurrency development in Ukraine vary depending on the specific requirements of the project, but generally range from $20 to $50 per hour. It is important to note that the cost of development can also be influenced by the size of the project and the complexity of the technology used.
Future Trends
The future of cryptocurrency looks promising with more mainstream adoption and major financial institutions entering the market.
The technology behind it, blockchain, has enormous potential for decentralizing various industries to increase efficiency and security. However, there are still challenges such as regulatory issues, volatility in pricing and lack of understanding among the general population that need to be addressed before widespread acceptance can occur. Overall, cryptocurrencies have disrupted traditional finance and will continue to evolve in innovative ways.