CRM Development Firms in Ukraine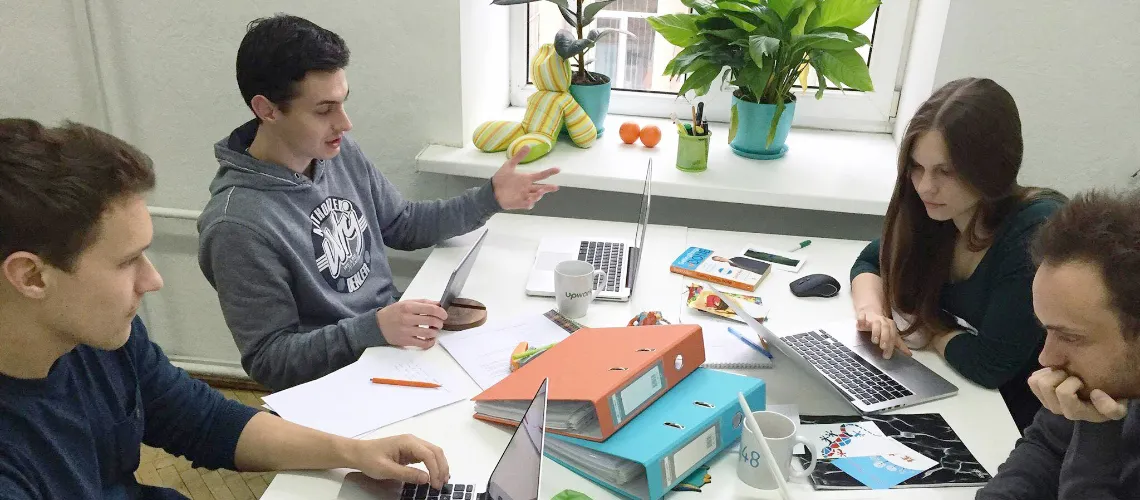 Discover the top CRM Development Companies in Ukraine, featuring a curated selection of experts specializing in customer relationship management solutions. These companies possess an exceptional ability to understand your business needs and deliver tailor-made software, ensuring seamless integration with your existing systems. With their technical prowess and industry knowledge, these Ukrainian CRM development companies provide outstanding services that effectively enhance customer engagement while boosting sales and productivity for businesses across industries.
(i) Related tech terms: Customer Relationship Management, Customer Data Management, Contact Management, Sales Force Automation, Lead Management, Pipeline Management, Marketing Automation, Analytics and Reporting.
Featured Websites
🥇 Looking for top-notch CRM freelancers? Fiverr has got your back! With thousands of expert professionals at your disposal, you can find the right match to handle all things customer relationship management. From data analysis to lead generation and everything in between, Fiverr's freelance service marketplace will take care of everything so that you can focus on what matters most à growing your business! Hire a reliable CRM freelancer today and discover why millions trust us with their needs!
How to choose the right firm?
When choosing the right CRM development company, look for one that has experience in your industry, offers a comprehensive portfolio of services, guarantees a successful CRM implementation, and provides ongoing support and maintenance.
Additionally, consider the company's customer service and communication style, and make sure the company is transparent and up-front about their pricing and terms.
Typical Projects
Five questions you should ask CRM developer(s) before the hire
What experience do you have developing and maintaining CRM systems?
What considerations do you take into account when designing CRM systems?
Describe a time when you implemented a customer-centric solution that had a major impact on the organization.
How do you stay up to date with the latest developments in CRM technology and implementation?
How have you collaborated with colleagues to identify areas to improve customer service?
👋 A lot of companies to analyse? Let us help you to select the trustful service provider!
Technologies that may replace CRM
Thinking of other choices (alternatives) may be a decent thought:
Artificial Intelligence (AI): AI is a technology that uses algorithms to automate decision-making processes, allowing for faster and more effective customer service.
Chatbots: Chatbots are automated computer programs that can simulate conversations with customers, providing them with quick answers to their questions.
Automated Workflows: Automated workflows are used to streamline customer service processes, such as customer onboarding and data collection.
Hire Ukrainian CRM Engineers
With plenty of experienced developers and great deals, you can be sure to find the perfect solution to meet your needs. From custom CRM software development to implementation and maintenance, Ukraine's CRM companies offer a wide range of services that can help you achieve your business objectives.
Top locations: Kyiv, Lviv, Kharkiv, Dnipro, Odesa, Zaporizhzhia, Vinnytsia, Khmelnytskyi, Ivano-Frankivsk.
The typical rates for CRM development in Ukraine vary depending on the complexity and scope of work, but generally range from $20 to $50 per hour. Large-scale projects can cost upwards of $20,000.
Future Trends
The future of CRM is all about personalization, automation and artificial intelligence.
As the number of customers grows, businesses must be able to efficiently manage their interactions with them. Machine learning will become more prominent in predicting customer behavior and providing a seamless experience by identifying patterns leading to prescriptive actions that can enhance the relationship between businesses and their consumers. Furthermore, chatbots offer 24/7 assistance while freeing up agents for higher-level tasks like sales conversions while also improving brand image on social media platforms where customers frequently reach out for support or feedback purposes.