360 Feedback Appraisal: A Sneak Peak at Echo Routine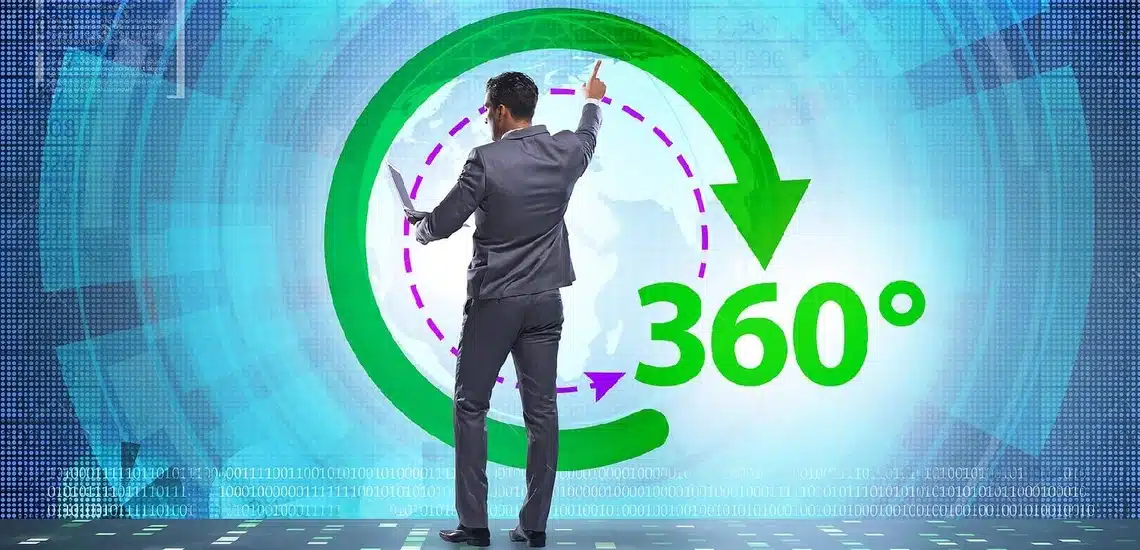 Discover Echo Routine's 360 Feedback Appraisal system, a revolutionary tool for comprehensive performance assessments. Enhance team productivity and growth with real-time feedback.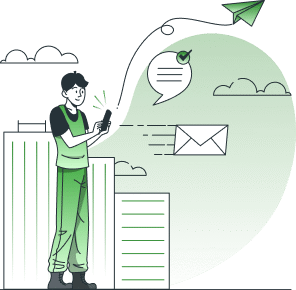 Join 2000+ tech leaders
A digest from our CEO on technology, talent and hard truth. Get it straight to your inbox every two weeks.
No SPAM. Unsubscribe anytime.
What is a 360-Degree Feedback Appraisal?
360-degree feedback (360DF), also known as multi-rater feedback or multi-source feedback, is a performance appraisal method that involves obtaining feedback from a variety of sources. These can include a person's manager, colleagues, subordinates, and themselves.
When is it Used?
At Echo, we use it as part of the Performance Management Review process for our management and recruitment teams. We set goals semi-annually, but our main evaluation process is conducted annually.
Competencies Evaluated
We evaluate both core and role-based competencies. Position competencies may vary depending on the role. Our core competencies are derived from the worldview of our founder and CEO, and we are fortunate that all team members share the same values, making life easier for all of us. Therefore, colleagues aligned with our values are essential for Echo.
Here are our six core competencies:
❤️ Honesty & Integrity
👌 Responsibility
🛡️ Perseverance
🚀 Ambition
👋 Initiative
🧑‍🤝‍🧑 Cooperation & Teamwork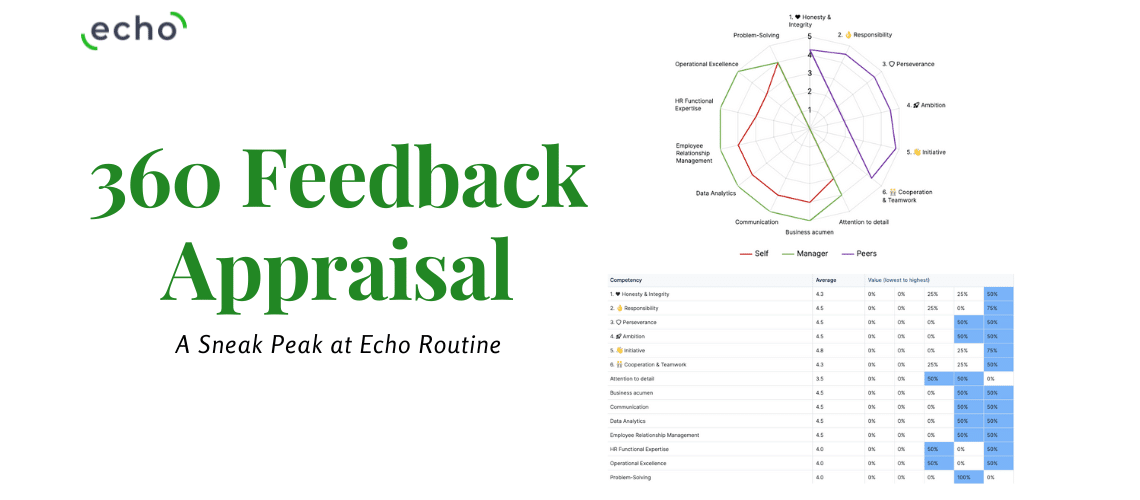 Advantages for People who are Being Reviewed
Hidden strength to build upon
Diverse viewpoints
Motivation to improve
Collaborative culture
Advantages for the Company
That can be answered with a single quote:
"As the individual becomes more effective, so does the organization. Organizational development begins with individual development." Lawrence John Cipolla
What do the Results Look Like?
Upon completion of the evaluation process, the first thing displayed is the 360 review dashboard. This dashboard provides an overview of the feedback gathered from three types of evaluation: self-, direct manager, and peer-evaluation.
In this particular case, the colleague being evaluated does not have any subordinates, and so we refer to the review as a 180-degree review. A 360-degree review would include feedback from subordinates in addition to the three types of evaluations mentioned above.
It appears that one of the peers did not submit their review, resulting in an 86% total progress status.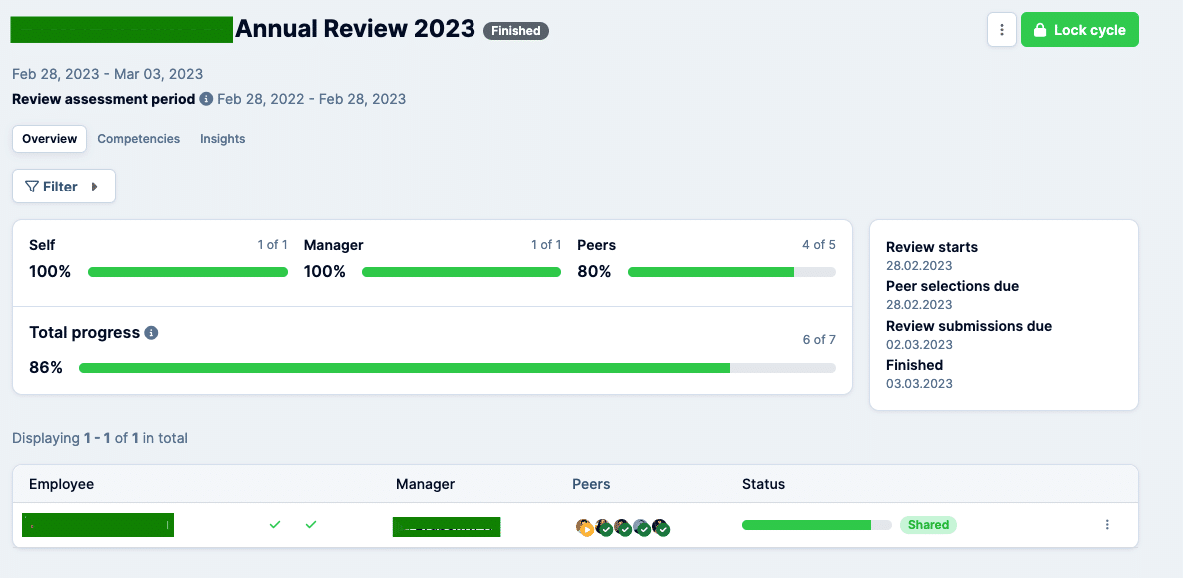 The most important insight from the 360 feedback is the Competencies Net. As previously mentioned, we have both core and position competencies at Echo.
The core competencies are displayed on the right side of the diagram as a list of numbers and emojis. Based on the results, we can see that the colleague fits our values and has an average score of 4.5.
There is a list of position competencies on the left hand side of the net. Interestingly, the colleague is more critical of himself in these competencies than his manager. This result could serve as a motivation boost for the employee.
Overall, these results provide the employee with a comprehensive picture of their performance and can help guide their professional development and growth.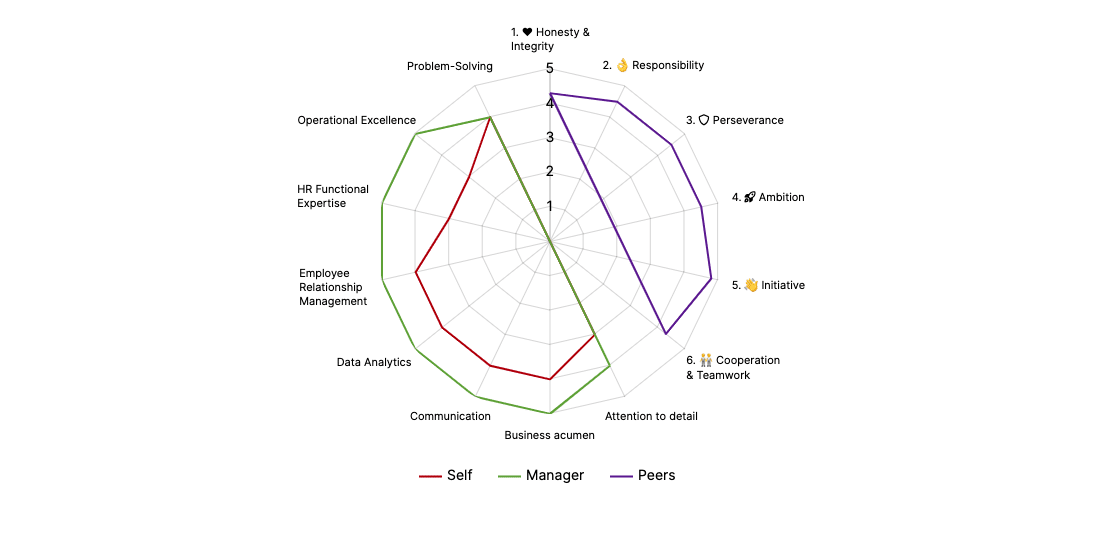 By reviewing their competencies in both the Competencies Net and table formats, the employee can gain a more complete understanding of their performance and identify specific areas for development. This information can be used to create a personalized professional development plan that focuses on improving key competencies and enhancing overall performance.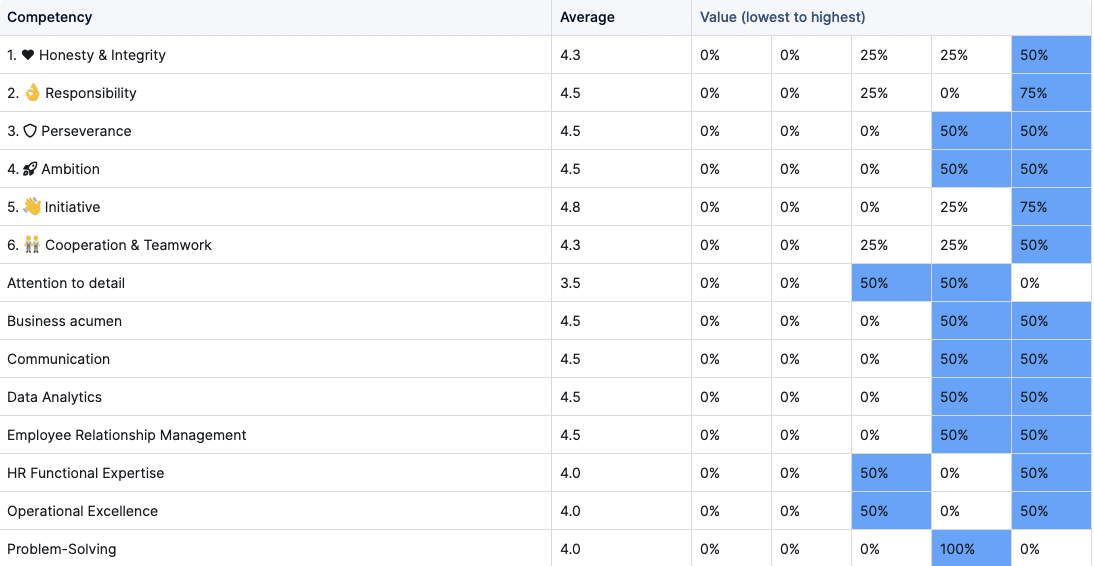 One of the most valuable aspects of 360 reviews is the written feedback that employees receive, particularly when this is provided by both their direct manager and peers.
For example, employee's Written Communication skill. This feedback can then be used as the basis for a discussion between the employee and their manager, helping to identify areas for improvement and determine how to address them.
Insights:
Don't force participants to leave comments. This can lead to a longer and more complicated process that some may be tempted to postpone or avoid entirely. By making comments optional, people are more likely to provide honest and relevant feedback.
When asking rating questions, provide a clear description of each score. For example, people may perceive the score 'neutral' differently, with some viewing it as a negative result. In a 360 review, however, 'neutral' should be interpreted as 'at level,' meaning that the employee is meeting all expectations and performing satisfactorily.
Set reasonable deadlines for completing the review process. Making the deadline too long, such as in 10 days, can lead to participants postponing the review and ultimately forgetting to submit it. Instead, setting a more reasonable deadline can ensure that participants have adequate time to complete the review and provide thoughtful feedback.
Questionnaire Template
We are happy to share the questions we use in our 360 review process. We hope that this will help other organizations develop their own comprehensive and effective review processes.
---
❤️Honesty & Integrity
Question: How honest is the colleague in their words and actions? To what extent do they display a high standard of ethics and moral values?
Possible answers:
Terrible -> Cannot be trusted at all.
Bad -> There have been a couple of times when the person displayed low moral values and acted dishonestly.
Neutral -> You don't know what to expect from the person, neither good nor bad.
Good -> Person is always consistent in words and actions.
Excellent -> The person is an open book and has the highest moral values.
👌Responsibility
Question: To what degree does the colleague take responsibility for their words and actions?
Possible answers:
Very low -> They can't finish a single task nor can they be relied upon.
Low -> Often forgets to do important tasks or avoids making decisions on their own.
Neutral -> Usually gets things done and in the correct manner.
High -> They consistently display high work ethic.
Very high -> They will finish the task no matter what and takes everything very seriously.
🛡️Perseverance
Question: Is the colleague persistent in their actions? Do they do the best they can, even when faced with rejection and downfalls?
Possible answers:
Strongly disagree -> Melts under simple stress like a snowflake.
Disagree -> Shows some attempts to overcome difficulties but gives up very quickly.
Neutral -> Feels comfortable with simple workflow but may take more time when difficulties occur.
Agree -> Always tries to make a deal with potential clients, even when faced with obstacles.
Strongly Agree -> Gets things done no matter what.
🚀Ambition
Question: How much does the colleague strive for success? How much effort do they display in their position to learn and develop?
Possible answers:
Terrible -> They have no goals whatsoever and their willingness to work is terrible.
Bad -> Complacency is the best word to describe this person.
Neutral -> They set goals but do not show any new approach in working to reach them, nor do they learn new ways of doing their work.
Good -> Person is not content with the current status quo and shows a desire and makes progress to become better.
Excellent -> Their development is obvious, goals are set very high, and determination to achieve them is remarkable.
👋Initiative
Question: Does the colleague behave in a proactive manner, and do they initiate and empower new things to happen?
Possible answers:
Terrible -> Not only do they not show any initiative, but they undermine initiative from other people.
Bad -> Person would do things in the same way for decades if left alone.
Neutral -> They initiate new ideas on how to work every now and then.
Good -> They are always trying to find new solutions to problems.
Excellent -> They do not ask for approval and provides new ideas. Initiative is always accompanied with execution.
🧑‍🤝‍🧑Cooperation & Teamwork
Question: Is a colleague a team player and do they work with others to achieve goals?
Possible answers:
Strongly disagree -> Teammates suffers due to the colleague's personal ego.
Disagree -> Person is a "one-man show" who often slows the development of the team.
Neutral -> Person communicates well with colleagues but does not make any extra effort to develop a team.
Agree -> Person always shares insights with teammates and understands the business priorities of the company.
Strongly Agree -> Person understands that there is a bigger goal than personal achievement and strives to reach that goal through teamwork.
If you found this information useful, feel free to ask for more of the questions we use. Just leave a comment below.
Frequently Asked Questions
How is confidentiality maintained in a 360-degree feedback process?
How often should 360DF appraisals be conducted?
What should be done if an employee receives conflicting feedback from different sources?
Tags: 360 feedback, appraisal, assessment, echo routine, evaluation.